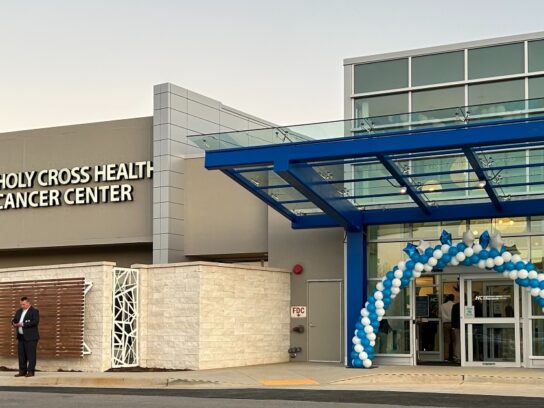 On Thursday, Holy Cross Health opened a new cancer center in Wheaton.
"What you see here this evening represents hundreds of hours of work behind the scenes," said Dr. Norvell Coots, President and CEO of Holy Cross Health, during a grand opening event.  
The 13,929 square-foot cancer center will open in two phases, according to Holy Cross Health. Thursday's opening replaces the current Radiation Treatment Center. Phase two is slated for late this year to include ambulatory cancer center services, infusion therapy, medical and surgical care and other services.
"This facility will save lives, this facility will complete families, this facility will provide hope, and that is what we need so much more of right now," said Montgomery County Councilmember Gabe Albornoz.
Tyrone Henson said he has survived liver and colon cancer. He was misdiagnosed by his primary care physician for more than a year before coming to Holy Cross. 
"When I say geniuses in this institution — they really saved my life, and the thing that basically puts you over the top is your customer service," Henson said.
The cancer center is located at 11006 Veirs Mill Road, Suite L1, in the Westfield Wheaton complex.
County Councilmember Natali Fani-González said Holy Cross Hospital was with her family from the beginning when her mother was first diagnosed with cancer 20 years ago, until her death a couple of years ago.
"The service, everything, that she went through was exceptional. All the nurses, all the doctors were great," and even the hospice care, Fani-González said emotionally.
According to Holy Cross Health, the cancer center will be the first in the metro area to provide the "Varian Edge radiosurgery system, a state-of-the-art technology that precisely targets radiation to brain, lung and spine tumors and allows simultaneous treatment of more areas."
Per the health system, Holy Cross Health serves more cancer inpatients per year than any hospital or health system in both Montgomery and Prince George's counties. 
Last month, Holy Cross Hospital leaders celebrated the institution's 60th anniversary in Silver Spring.
Holy Cross Health opens new cancer center in Wheaton. @mymcmedia pic.twitter.com/K5Z4BnM6AF

— Maryam Shahzad (@maryam_mcm) February 24, 2023