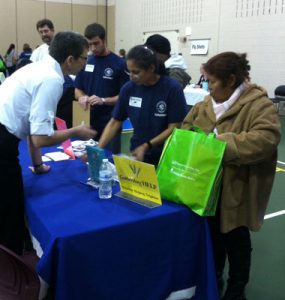 More than 65 organizations offered a variety of resources for people who experience homelessness at the Nadim Khan Memorial Homeless Resource Day at The Activity Center at Bohrer Park in Gaithersburg on Thursday.
About 400 volunteers were there to help attendees navigate those resources which ranged from medical screenings to free haircuts, and manicures.
This was the eighth annual year for the event which was named to honor the late Nadim Khan, service chief for Special Needs Housing in the Department of Health and Human Services.
According to the Metropolitan Washington Council of Governments there were 647 homeless individuals counted in Montgomery County in January 2019.
Watch this video to learn more.