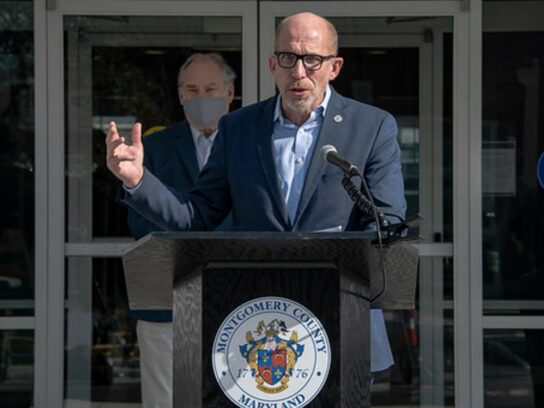 The Montgomery County Council unanimously appointed Councilmember Tom Hucker council president at a meeting Tuesday.
Councilmember Gabe Albornoz was appointed council vice president. Hucker was formerly vice president; he replaces outgoing President Sidney Katz.
Katz was elected council president in 2019. Councilmembers offered sincere and appreciative remarks reflecting on Katz's year as president.
Councilmember Hans Riemer said Katz was a terrific president. He said he really enjoys learning about Katz's experiences and relationships with county residents.
"Sidney Katz– I think of you as Mr. Montgomery," Riemer said. "It is a very friendly and warm experience for me when, in the course of our deliberations, we hear about the people that you know, your personal experience with the communities." He said he will never forget Katz's stories about attending a segregated elementary school and how that experience has impacted him.
"At a time when so much of our governance and our politics is defined by mean spiritedness and division and divisiveness, you really brought a kindness and a decency and a genuine nature to politics which has really been refreshing," Councilmember Andrew Friedson said of Katz.
"I know when I talk to you, you are coming from a place that you care about people," Councilmember Will Jawando said.
"I just really appreciate you setting that tone in a very trying year," he said.
"Your calm and cool, collected leadership was exactly what we needed as our world changed in the blink of an eye," Councilmember Evan Glass said, referring to the COVID-19 pandemic. "And it was your leadership that facilitated our ability to collaboratively work together to keep our residents healthy and safe."
"You led us through unchartered territory with your trademark humor and unwavering dedication to serving our residents," said Councilmember Nancy Navarro, also referring to the pandemic. She thanked Katz and his staff.
The @MoCoCouncilMD unanimously appoints Councilmember Tom Hucker as council president and Councilmember Gabe Albornoz as vice president. @mymcmedia

— Maryam Shahzad (@maryam_mcm) December 1, 2020
"You kept us tied together this year, sir, in so many different ways," Councilmember Gabe Albornoz said, making a joke about Katz's "prolific" tie collection. He acknowledged Katz's work that the general public does not see, like midnight and 6 a.m. phone calls.
"You did it in a way, with a high degree of humility and kindness," Albornoz said.
Councilmember Craig Rice said the county needed Katz's character and spirit this year.
"Who knew that we needed to have a leader who had the compassion to care about how others would survive the global pandemic, racial unrest, economic uncertainty and ensure that their voices were heard," Rice said.
Hucker said 2020 is an unprecedented time.
"No one, no one, could have led us through it with more calm, more steadiness and more grace under pressure than you have," he told Katz. Hucker thanked councilmembers for supporting him as president. He pledged to work hard to address the "tremendous challenges" ahead of Montgomery County.
Katz offered outgoing remarks.
"You have heard me say many times that I believe a community is a family, that we are a community of people helping people. And we are a council of people serving people," he said.
"I am proud to have led our efforts this last year as we shine the light on the Montgomery County that we each treasure and why Montgomery County is the place that I am proud to call home," Katz said.