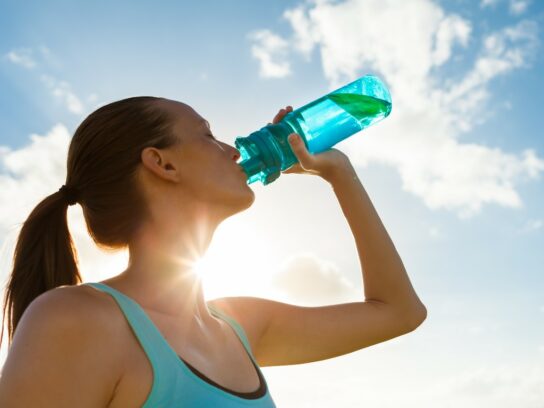 Montgomery County has issued a hyperthermia alert for Tuesday from noon to 6 p.m. with the heat index expected to exceed 95 degrees. County residents are strongly encouraged to take precautions to protect themselves from various heat-related illnesses.
A Hyperthermia Alert has been issued for Montgomery County from 12:00 PM – 6:00 PM, 7/28. A Hyperthermia Alert is issued for Montgomery County when temperatures and/or heat indices are forecast to reach 95 degrees or higher. #mdweather pic.twitter.com/VW5pDUXJoV

— MC Emergency Mgmt (@ReadyMontgomery) July 27, 2020
According to a Montgomery County press release, "A Hyperthermia Alert is issued for the County when forecasted temperatures, and/or heat index, in at least part of the County is at least 95 degrees or higher creating a hazardous situation in which heat-stroke and heat exhaustion are likely."
Residents are urged to avoid strenuous activities that can result in overexposure to the sun. Sunglasses, sunscreen, hats, and light-colored clothing should be worn when outside. If individuals must go outdoors, they should do so when the day's temperatures are at their coolest, normally before 9 a.m.
Drinking plenty of water is a necessity. Dehydration, cramps, exhaustion, or heat strokes can occur from the lack of fluids. Water is the safest beverage to drink. Avoid those containing alcohol or caffeine.
Pets, young children, or the elderly should not be left unattended in a vehicle for any amount of time. According to County-released information, "Even with the window open, the temperature inside parked cars can reach 130 degrees in only a few minutes."
Aside from monitoring their own health, residents are strongly encouraged to monitor those at high risk. Those at the greatest risk of heat-related illnesses include: infants and children up to age four, individuals 65 and older, individuals who are ill or taking specific medications, as well as those who are overweight.
In addition, residents should keep a close eye on their pets. Animals that are outside must have clear access to shade, shelter, and water. Executive Regulation 17-17, Anti-Cruelty Conditions for Dogs, Section D, states: "In the event of an extreme weather situation or weather emergency, owners must not leave a pet unattended outdoors. Under Executive Regulations 17-17, the Director of the Montgomery County Police Department, Animal Services Division, has the authority to enforce Anti-Cruelty Conditions for dogs and other pets. Pet owners are advised to be particularly careful with pets in vehicles during high outdoor temperatures and be familiar with the signs of heat stress." Those who fail to comply with set regulations can face a fine of $500.
The homeless are also at high risk of heat-related illnesses. Those concerned about the well-being of a homeless individual can call the 24-hour Homeless Information Line at 240-907-2688. Outreach partners will then use the information provided by the caller to try to find the individual. They will then offer resources and support.
For further information about County programs and services, call 3-1-1. Additionally, residents are strongly encouraged to register for the County's Alert Montgomery notification system at alert.montgomerycountymd.gov to receive emergency alerts regarding weather and other emergency information.
Hot, humid Tuesday with chance to break July heat record; afternoon storms likely https://t.co/fSgjQgR75p #fox5weather @MikeTFox5 @TuckerFox5 @suepalkafox5dc pic.twitter.com/DtLoRKEUBn

— FOX 5 DC (@fox5dc) July 28, 2020