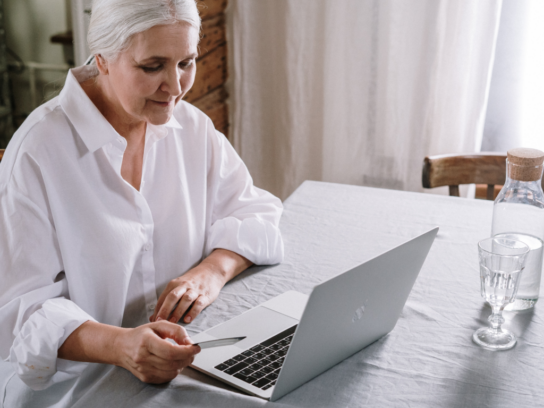 Senior Planet Montgomery, a technology training program created for those over the age of 60, is now offering free online classes that focus on different ways to "thrive" at home. Classes will center on Food Delivery Apps, Cloud Storage, and the Montgomery County Volunteer Center. Classes will end July 31.
The program is supported by the County's Department of Technology Services' ultraMontgomery program in partnership with nonprofit OATS (Older Adults Technology Services). Sessions will fixate on user-friendly tools and resources. All sessions aim to allow older adults to learn ways to take advantage of technologies that can enhance their lives.
According to a Montgomery County press release, "Senior Planet Montgomery utilizes curricula created by OATS, which also provides training staff and works with numerous County departments to identify topics of interest for Montgomery residents. OATS sponsors similar Senior Planet programming in six states. The County's Department of Environmental Protection contributes to the program's course offerings by producing sessions on how to lower energy costs."
Classes offered July 27-31 consist of:
Food Delivery Apps: Monday, July 27, 2:30-3:30 p.m.

Participants will be provided with an overview of the most popular food delivery apps, such as Seamless. Additionally, participants will also learn how to search for new restaurants as well as how to leave a tip and rating.

Cloud Storage: Wednesday, July 29, 10-11 a.m.

Participants will learn the fundamentals of cloud storage.

How to Initiate a Zoom Meeting: Wednesday, July 29, 4-5 p.m.

Participants will learn how to create an account, create a meeting, share meeting details, as well as how to invite participants and adjust meeting settings.

Finding Your Best Volunteer Fit During COVID and Beyond: Thursday, July 30, 4-5 p.m.

Participants will learn how to maneuver the Montgomery County Volunteer Center's website.

Make Energy Cents: Friday, July 31, 11 a.m.-noon.

Participants will be provided with an introduction to the County's new energy website. Individuals will learn how to use the site for finding energy-saving programs, exploring energy-efficient technology and getting help understanding a utility bill.
For further information about Senior Planet Montgomery and to view its virtual program offerings, click here. The team can be contacted at 240-753-0676 or via email at mocoinfo@seniorplanet.org.
To sign up for the Senior Planet Montgomery newsletter, which includes detailed information about upcoming classes, click here.
Senior Planet Montgomery, a technology training program designed for County learners 60 and older, is offering free online classes this week that focus on Food Delivery Apps, Cloud Storage and the Montgomery County Volunteer Center. Learn more: https://t.co/Mke6TeQKgO. 💻 pic.twitter.com/femt5re08c

— Montgomery County MD (@MontgomeryCoMD) July 27, 2020