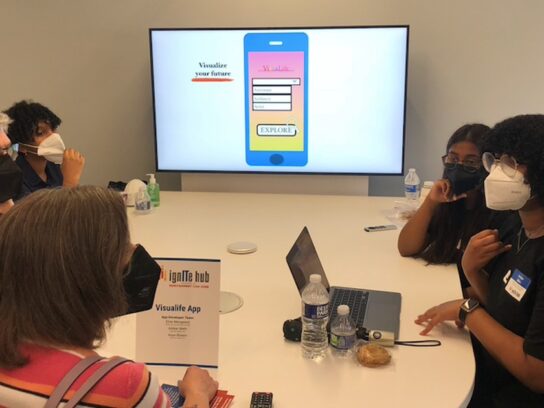 Students, entrepreneurs and others have a new space to grow coding and technology skills in Montgomery County.
County and education leaders celebrated the new ignITe Hub with a grand opening ribbon-cutting ceremony Saturday at the facility on Montgomery College's Rockville campus. The space aims to support "the next generation of IT professionals," according to the county, through instructional classes, Apple technology and collaborative spaces. 
"Working together through the ignITe Hub, we can refuel our efforts to deliver a home-grown, STEM talent pool ready to take our community to new heights," Montgomery College President Dr. Jermaine Williams said on Saturday.
"This is a space like few others," Williams said. "It will be open to all in our community, to spur entrepreneurship, spark career interests, solve community problems and deepen the community's tech skills. Students, entrepreneurs, nonprofits, educators and residents of all ages will benefit from this powerful new tech asset in our county."
The hub is a partnership between the county, Montgomery County Public Schools (MCPS), Montgomery College, the County Economic Development Corporation and Apple.
"I believe that this can serve as Apple's North Star, for coding training for students and staff and a place where new businesses are spurred," said Councilmember Craig Rice, who was behind the effort to establish the facility.
"We're envisioning this as a place where an entrepreneur may come to learn and develop small companies, develop products they need for their own company," County Executive Marc Elrich told MyMCM. 
It connects schools and students to technology and IT learning.
"We want to make sure that every kid who wants in can get in," Elrich said.
"I hope that this is a place where people feel like they belong," said ignITe Hub Director Kimberly Bloch-Rincan. "They can overcome that imposter syndrome of, 'I don't belong here.' And I want them to leave with, 'Yes I do belong here, I do have a community and I know that my dreams can come true."
This summer, the hub will host MCPS teachers for training for the Montgomery Can Code summer coding camp, said MCPS Interim Superintendent Dr. Monifa McKnight. Teachers will receive professional development related to computer science, engineering and technology education, so they can bring those topics to students in the classroom this fall.
"So it won't be a special after-school program or something that can only happen in the hub, we want this opportunity to be available to all of our students in all of our schools," McKnight said.
"The ignITe Hub is a place where community comes together to embrace technology and harness the potential of technological innovation, coupled with social change," Rice said.  
MCPS middle and high school students in the Montgomery Can Code program joined the event to demonstrate apps they created. The ignITe Hub will broaden the program.
Grand opening of the ignITe Hub on Montgomery College's Rockville campus — a space to grow technology, coding and entrepreneurial skills. @mymcmedia pic.twitter.com/IemfEttirW

— Maryam Shahzad (@maryam_mcm) May 14, 2022