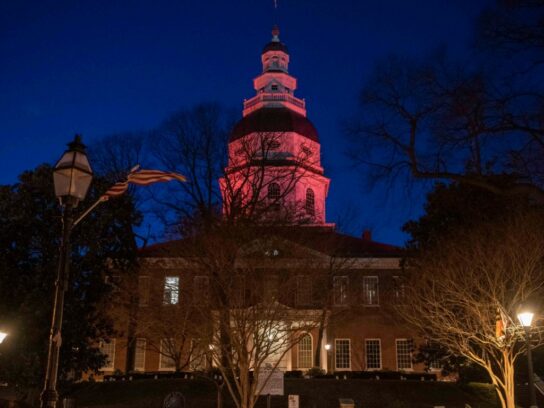 Several landmarks across the state illuminated amber on Friday to honor Marylanders who lost their lives to COVID-19.
March 5 marks one year since Gov. Larry Hogan announced the first positive cases of COVID-19 within the state. Since the initial confirmation of COVID-19 in the state of Maryland, nearly 7,748 lives have been lost.
Gov. Hogan declared March 5 a day of remembrance to honor those who have lost their lives to the COVID-19 pandemic.
Flags were lowered to half-staff, and a ceremony was held at the State House where Hogan memorialized those lost, and urging all residents to continue to stay vigilant.
Several other buildings and landmarks were lit, including M&T Bank Stadium and Baltimore City Hall.
The State House dome, Government House, and landmarks across the state are illuminated amber tonight as we pay tribute to the thousands of Marylanders lost to COVID-19.

May love light our path forward. pic.twitter.com/SJNhzWBpfM

— Governor Larry Hogan (@GovLarryHogan) March 6, 2021
While we will never forget the thousands of Marylanders that this deadly virus has taken from us, we will emerge from these dark days stronger and better than ever. pic.twitter.com/ZIEIN58ScY

— Governor Larry Hogan (@GovLarryHogan) March 6, 2021
M&T Bank Stadium and Camden Yards lit in amber to remember the 7,748 lives lost to #COVID19 in Maryland; state flags at half staff @wjz #DayofRemembrance pic.twitter.com/s9hxPJDSpj

— Mike Hellgren (@HellgrenWJZ) March 6, 2021
Baltimore City Hall will be lit in amber tonight to honor the victims of #COVID19 on the somber anniversary of the first cases being confirmed in Maryland. @wjz pic.twitter.com/A1Fezsl2Ec

— Mike Hellgren (@HellgrenWJZ) March 5, 2021