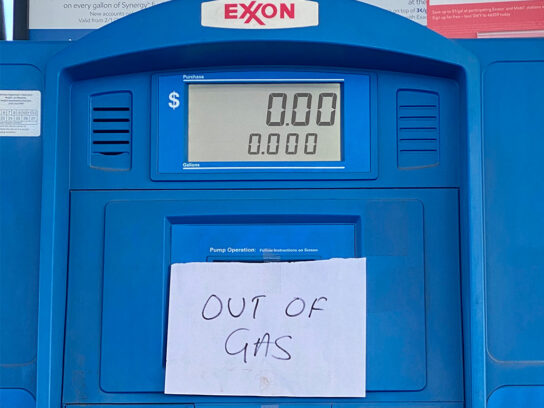 Panic at the pumps continued on Thursday with 39% of gas stations in Maryland experiencing fuel shortages, according to data from GasBuddy. On Wednesday, GasBuddy reports that only 15% of gas stations in Maryland were experiencing shortages.
This comes after local Montgomery County leaders have warned residents not to hoard gasoline because any shortages are currently caused by consumers.
The panic to buy gasoline has come after hackers infiltrated the Colonial Pipeline, which runs from Texas to New York—providing around 45% of the East Coast's fuel. On Tuesday, the Colonial Pipeline paid $5 million in ransom to the hackers so that company has restarted its operations, but it will take a while before things are normal again.
U.S. Energy Secretary Jennifer Granholm tweeted on Thursday, "While it's a great relief that #ColonialPipeline Company is resuming full operations, this isn't like flipping a light switch. Gas is flowing, the end is in sight and things should go back to normal within days."
For those in Maryland who are able to find open gas stations to fill their tanks, the price for regular gas is increasing. On Wednesday, AAA reports that the average price for gas in Maryland was $2.95; the average price for gas in Maryland on Thursday is $3.01.
According to WMAR Baltimore, Maryland Attorney General Brian Frosh has received dozens of complains about increased gasoline prices after the cyber attack.
Frosh tweeted, "Marylanders need protection from price-gouging. Next session, I will work with legislative leaders to ensure that this type of emergency authority, already available in most other states, is established to protect consumers from unscrupulous individuals."
Marylanders need protection from price-gouging. Next session, I will work with legislative leaders to ensure that this type of emergency authority, already available in most other states, is established to protect consumers from unscrupulous individuals.https://t.co/zM6PkMivJO

— Brian Frosh (@BrianFrosh) May 13, 2021
Related Posts:
Stoddard: Gas Station Closures Driven by 'Panic Buyers', Not Actual Supply Shortage
Olney Residents Scramble for Fuel Amid Gas Shortage at Stations
Some Stations are Out of Gas but Overall, 'Montgomery County Is In Pretty Good Shape'