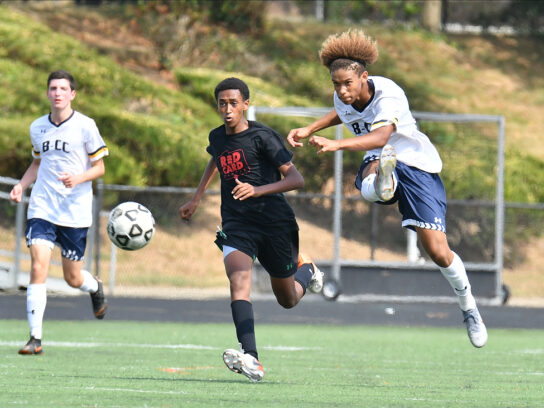 September 28, 2019: North Bethesda, MD
Bethesda-Chevy Chase Boys Varsity soccer found a way to win in extra time to defeat rival Walter Johnson Boys.  With 6:40 left in the extra time period a cross pass found B-CC's Ethan Tiao who tapped in a heel goal in front of WJ's goal out stretched defenders.
It was a chippy game between these two former state champions that almost turned ugly at the end of the first half.  Both teams went at each other at midfield as time ran out.  Officials and coaches separated players who returned to the half time huddles steaming.  The Barons of Bethesda-Chevy Chase lead at the point 1-0.
It was not until 3:03 was left in regulation when Xavier Melendez danced a shot in front of the goal past the BCC goalie to tie the game.  Yellow cards were the color of the day despite WJ's game promotion to RED CARD Cancer by raising $500 from attendees.
Photos to follow
Photos copyrighted 2019 © Phil Fabrizio | PhotoLoaf® for MCM