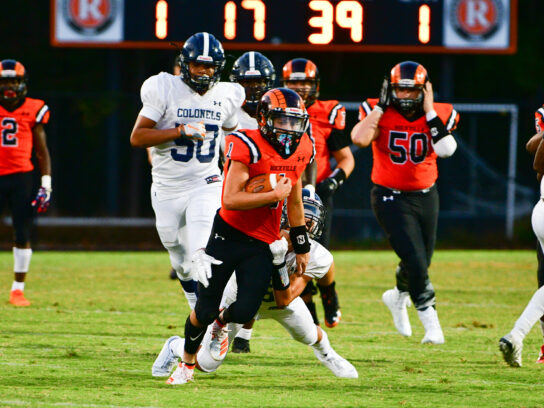 Rockville High School, Rockville Maryland September 27th
Friday night's Rockville win began when the Rams stopped the Colonels first drive forcing a punt.  The fumbled snap to the kicker resulted in a "scoop and score" and an early 6-0 leads minutes into the first quarter.  Rockville controlled Magruder defensively the entire first half holding them scoreless.  The Rams control on offense proved as effective as they took a 28 point lead.  The Colonels third-quarter touchdown ended their scoring drought but the uphill climb was going to be a difficult one.  The third quarter ended 28-7 with the Rams clearly in control.
Rockville kept the pressure on and with six minutes to play in the game the lead was 34-7 over the Colonels.  Magruder tallied one more score with four minutes remaining bringing their point total to 13.  During the final seconds of the game as Magruder tried to complete a third and long pass attempt unfortunately resulted in an interception by Rockville and a return for a touchdown as time expired.  The officials declaring the game over and no point after was attempted.
The final score of 40-13 Rockville over Magruder takes the Rams to a 3-0 season.  The Rams travel to Watkins Mill to face a resurgent Wolverine 3 win 1 loss squad next Friday night.
Pictures to follow by Daryl Schultz