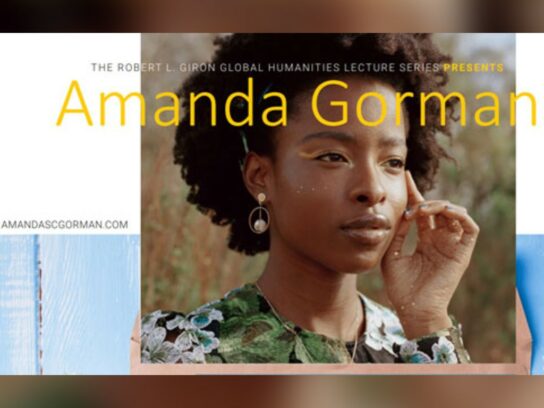 Update (1/27): Amanda Gorman's virtual poetry reading with Montgomery College has been postponed due to a scheduling conflict, the college said in a message to students and employees Wednesday.
The college said it is corresponding with Gorman's representatives and is confident a new date will be announced soon. The poetry reading was originally scheduled for Feb. 2; everyone who registered will remain registered for the event.
"As you can assume, Ms. Gorman became an international public figure immediately following the powerful recitation of her poem, 'The Hill We Climb' as part of President Biden's inauguration ceremony," said a message from MC. "We look forward to having Ms. Gorman join the MC community as soon as her schedule allows."
MC said it will send an email to students and employees when a new date is confirmed.
[hr]
Original Post (1/21): Amanda Gorman, who made history Wednesday as the youngest inaugural poet ever in the U.S., will read her poetry at a virtual event with Montgomery College on Feb. 2.
Gorman, 22, became the first-ever National Youth Poet Laureate in the U.S. in 2017. The Harvard University graduate is from Los Angeles and mesmerized viewers as she recited her poem, "The Hill We Climb," during President Joe Biden's inauguration ceremony. The poem was about half-complete before Jan. 6, the day supporters of former President Donald Trump stormed the Capitol building, and the events gave Gorman a "second wave of energy" to finish, the Associated Press reports.
"We did not feel prepared to be the heirs of such a terrifying hour, but within it, we found the power to author a new chapter, to offer hope and laughter to ourselves. So, while once we asked, 'How could we possibly prevail over catastrophe,' now we assert, 'How could catastrophe possibly prevail over us?'" an excerpt from Gorman's poem reads.
The poem concludes: "When day comes, we step out of the shade aflame and unafraid. The new dawn blooms as we free it. For there is always light. If only we're brave enough to see it. If only we're brave enough to be it."
Gorman will read her poetry for the Montgomery College community over Zoom on Tuesday, Feb. 2. The college says all are welcome to join the event and asks residents to pre-register here. The event is set to begin at 12:30 p.m. and end at 2 p.m.
Viewers nationwide were captivated by Gorman's recitation Wednesday, as is evident by her instant social media fame. According to the AP, she had about 206,000 Instagram followers when the inauguration ended on Wednesday. As of Thursday morning, Gorman has more than 2.6 million followers. She had about 121,300 Twitter followers after the inauguration Wednesday, and reached over 1.2 million as of Thursday morning.
Thank you! I would be nowhere without the women whose footsteps I dance in. While reciting my poem, I wore a ring with a caged bird—a gift from @Oprah for the occasion , to symbolize Maya Angelou, a previous inaugural poet. Here's to the women who have climbed my hills before. https://t.co/5Tegd20sko

— Amanda Gorman (@TheAmandaGorman) January 20, 2021
Thx @Lin_Manuel ! Did you catch the 2 @HamiltonMusical references in the inaugural poem? I couldn't help myself! https://t.co/22UTKkGTLq

— Amanda Gorman (@TheAmandaGorman) January 20, 2021