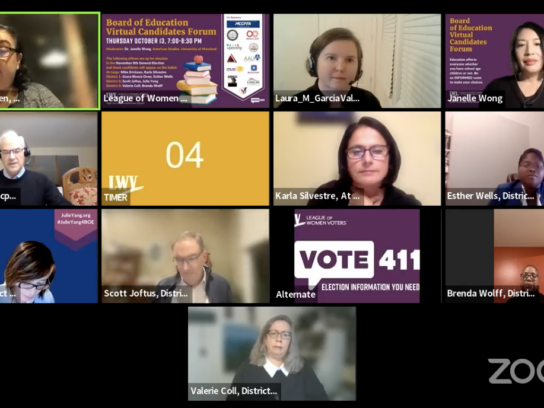 Strategies for improving teacher retention, student recovery from pandemic learning loss and inclusion took center stage at a Montgomery County Board of Education candidate forum Thursday night.
The forum, hosted by the Montgomery County League of Women Voters, featured seven of the eight candidates running for the four contested Montgomery County Public Schools (MCPS) Board of Education positions. All county voters can cast their ballots for their preferred candidate in each district and at large race. 
The pandemic's effect on MCPS students and staff loomed large over each participant's platform. Candidate shared ideas for improving teacher recruitment as districts across Maryland continue to grapple with widespread teacher shortages. 
Many candidates endorsed raises and differential pay for special education teachers. Incumbent at-large candidate Karla Silvestre added that the county's 'Grow Your Own' program – which recruits MCPS graduates to go into the field of education and return to teach in the district – should continue to expand and incentivize teaching careers.
District 5 candidate Valerie Coll, who worked as an elementary school teacher in the district for more than 30 years, added that board members must mitigate burnout among current staff by tending to their needs.
"One way to stop the bleeding is to actually listen to the educators and the staff in the buildings," Coll said. "We can do that by making better use and developing better climate surveys for staff."
Candidates also discussed how to allocate resources to help students most impacted by pandemic learning loss. 
Incumbent District 3 candidate Scott Joftus focused on how community schools – which often provide wraparound support services to students and families – could help students bridge the pandemic learning gap.
Joftus added that the county should focus on incentive pay to bring the best school staff to the highest-poverty schools.
Silvestre said that the board must constantly reevaluate what learning strategies are working to improve student performance.
"Access and effectiveness are just as important as allocation of resources," the current school board vice president said.
Candidates also discussed possible implementation strategies for the Anti-Racist System Audit report of the district. The two-year study was released Tuesday and described a lack of "equitable opportunities" for students.
District 5 candidate and current MCPS School Board President Brenda Wolff emphasized the need for greater diversity among teaching staff. Having accessible programs for every MCPS student will also be crucial for implementing the audit's recommendations, Wolff said.
Candidates added that the audit's implementation must align with already-established programs that aim to close the achievement gap. 
"We want to see the needle move," Wolff said. "We want to see that the program, the money and the evaluation are aligned."
Improving relationships between the school board and various stakeholder groups was a uniting discussion point during the forum. Candidates discussed ideas to improve communication with immigrant families, mitigate discrimination in the district and protect LGBTQ+ students.
"Some folks feel that LGBT students should not have the same rights as normal students," said District 1 candidate Grace Rivera-Oven. "Our job as educators is to educate without ignorance. That has absolutely no part in our system." 
In their discussion of inclusion, candidates also discussed ways to engage the most relevant community stakeholders in the district. 
District 1 candidate Esther Wells advocated for the board to prioritize regaining trust from parents who disagreed with MCPS' pandemic policymaking. Future board members must view parents "at minimum as equal partners in the education of our students."
But District 3 candidate Julie Yang emphasized that the school board receives its most important feedback from individual students.
"Let's listen to our students. Let them tell us how we are doing," Yang said. "Let us really understand their experiences, their stories so that we can better meet their needs."