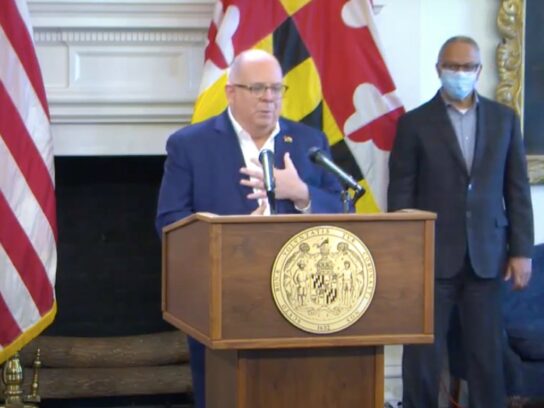 Indoor dining can resume at 50 percent capacity in Maryland beginning this Friday, June 12 at 5 p.m., Gov. Larry Hogan announced at a press conference Wednesday. 
Outdoor graduation ceremonies and amusements like rides and miniature golf can also start again. Outdoor pools can increase capacity to 50 percent. All of these additional Phase 2 reopenings must follow distancing and other public health guidelines. 
"Because of the early and aggressive actions taken, we have not only flattened the curve, we have actually crushed that curve in Maryland," Hogan said. However, he said he is not ready to take part in indoor dining. 
"I am over 60, I'm a cancer survivor… I would not feel comfortable dining inside and if I were going to a restaurant I would prefer to sit outside, which is much safer," he said. 
Remember, the governor leaves it to the discretion of counties to decide whether to follow his schedule for reopening, or to reopen more slowly. Montgomery County announced that it is likely to enter Phase 2 of reopening next week. The county is currently still in Phase 1, while most other counties have entered Phase 2 already. 
LIVE: Roadmap to Recovery Update – June 10, 2020

Live captioning is available on YouTube. https://t.co/aYlX83FEo6

— Governor Larry Hogan (@GovLarryHogan) June 10, 2020
Although reopening is continuing, Hogan said recent Black Lives Matter protests are worrying officials.
"Public health officials do have serious concerns, however, about the dramatic, immediate end to physical distancing," he said. He said the state went from following 10-person gathering limits to thousands of people congregating for protests. He cited a study that found a potential for a 250 percent increase in the rate of COVID-19 infection in those attending mass gatherings. His health experts encourage anyone who attended protests to immediately get tested and avoid vulnerable populations. 
As for education reopenings, State Superintendent Karen Salmon said small groups of students and staff can go into school buildings for summer school. Each room can have 10-15 people maximum. She strongly encouraged school systems to focus on bringing in students who are most impacted and struggling right now with the pandemic or with online learning. 
On Friday, June 19, indoor gyms and studio fitness, casinos, arcades and malls can begin reopening, also following distancing and public health guidelines.