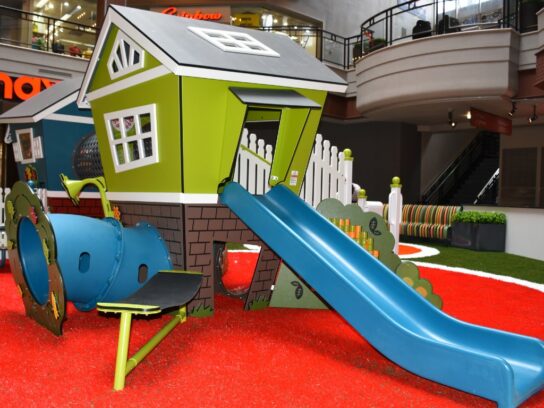 An indoor playground, aimed at drawing more families to the retail center, opened at Ellsworth Place in Silver Spring on Thursday. The $300,000 investment includes two primary house structures, four activity stations, slides, tunnels, and benches for parents. 
The project, implemented by GBT Realty Corporation, a national commercial development company, aims to create a better shopping experience for the modern commercial landscape. 
According to a press release from GBT, as technology and broader cultural experiences continues to become more important in consumers' lives, entertainment is becoming more important in drawing families to brick and mortar businesses and retail centers. 
This colorful and modern playground, which spans almost the entire ground level, attempts to create more family entertainment in Ellsworth Place, bringing families to the retail center. 
"The new and modern play area, right in the center of top retail stores, adds convenience and fun to the shopping experience," said Olivia Dial, GBT's vice president of design and property, in a press release. "The Silver Spring community is such a special place that we wanted to do something a little different with this asset renovation."
GBT Realty Corporation acquired Ellsworth Plaza in 2018, and the new indoor playground space is one of many capital improvement projects planned for the space in the upcoming year. 
In addition to the playground, GBT Realty Corporation also added $200,000 worth of  enhancements to the shopping center including new lighting, digital directories and graphic installations. According to a press release, the investment group plans to continue to undertake capital improvement projects in the next 12-18 months. 
The playground is open during Ellsworth Place retail hours on Monday-Saturday from 10 a.m.-9 p.m. and Sunday from 12 p.m.-6 p.m.