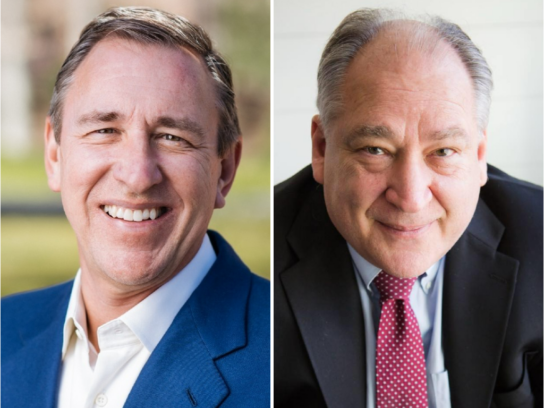 Montgomery County Executive Marc Elrich won the Democratic nomination for a chance at a second term, defeating challenger David Blair by 32 votes. Following the recount, Blair gained 10 new votes to Elrich's seven, which was not enough to change the results.
Wednesday afternoon, the Montgomery County Board of Elections unanimously voted to certify the race, after tabulating and auditing early voting, mail-in voting, primary day voting and provisional voting.
Prior to the recount, Elrich led by 35 votes. The final vote tally was 55,504 votes for Elrich and 55,472 for Blair.
Elrich ends with 55,504 votes to Blair's 55,472 following recount of Montgomery County executive race. He is democratic nominee @mymcmedia

— suzanne pollak (@SuzannePollak) August 24, 2022
According to the BOE, both Blair and Elrich gained four votes from ballots cast during the primary election day. Blair gained one vote during the early voting recount. No votes changed following provisional ballot tabulation and auditing. Blair gained five votes to Elrich's three during the recount of mail-in ballots.
BOE Attorney Kevin Karpinski said ballots were manually recounted by 40 to 50 teams, each consisting of 80 to 100 people.
The ballots most closely reviewed were ones that the electronic scanners rejected. This most often occurred when a voter colored in circles for more than the number allowed. Voters could only chose one candidate for executive.
If more than one choice was made, those ballots were scrutinized closely. If it was visibly obvious who the the voter chose, that ballot was counted, Karpinski said. Some of the ballots had an X or a No or Yes next to the candidate's names making it obvious to the tabulators who they preferred, he said.
About 150 of those ballots were reviewed, with only two of them not receiving anonymous support by the tabulators as to which candidate the voter wanted, noted Boardmember David Naimon.
"That showed a high level of cooperative work by the Board members in the recount," Naimon explained.
Immediately after the board members voted to certify the results, Blair issued a statement, noting that earlier Wednesday, he called Elrich "to wish him the best over the next four years."
"While we didn't win, no doubt we pushed the conversation forward in key areas such as early childhood education, career readiness, environmental progress, affordable housing, economic development, public safety and much, much more. I wish a heartfelt thank you to our campaign team, our volunteers, and our many, many supporters. Their energy, dedication and vision for a better Montgomery County has been truly inspiring," he wrote in the statement.
Elrich now faces Republican nominee Reardon Sullivan.
Signed, sealed & delivered. It's time to pivot efforts towards the General election! Final vote count for the Democratic Primary for Montgomery County Executive.
David Blair: 55,472
Marc Elrich: 55,504
A 32 vote difference. 🗳#YourVoiceYourVote2022 pic.twitter.com/9L1HwSAHFv

— MontgomeryMDVotes (@777Vote) August 24, 2022