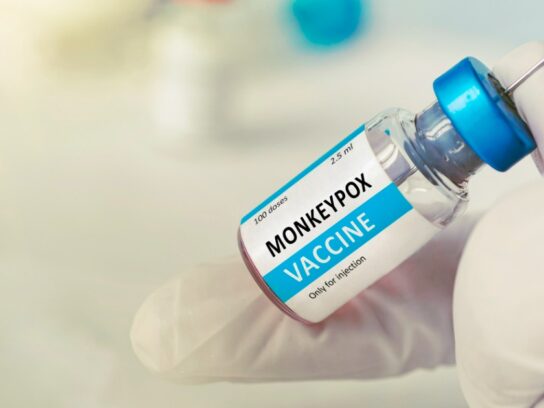 "Gobernador Hogan. Necesitamos más vacunas contra la viruela del mono", enfatizó el vicepresidente del concejo de Montgomery, Evan Glass, durante una asamblea pública de 80 minutos, el lunes por la noche.
Hasta el momento, el condado ha recibido 850 dosis, menos de la mitad del número para responder a los más de 2,000 residentes que solicitaron ser vacunados, señaló James Bridgers, oficial de salud interino del condado.
Al igual que el COVID-19, la viruela del mono requiere dos vacunas para ser más efectiva.
Alrededor de las tres cuartas partes de las vacunas disponibles se han administrado o programado. Ese número debería aumentar a partir del miércoles cuando el condado comience a reducir la dosis de la vacuna a una quinta parte, según lo aprobado por la FDA.
Actualmente, el condado solo administra vacunas a quienes saben que estuvieron expuestos o se presume que estuvieron expuestos a alguien con viruela del mono. El condado tiene un sitio web para que las personas se pre-inscriban para vacunarse.
"La gente está nerviosa. Están ansiosas y asustadas", dijo Glass, quien señaló que el 99% de todos los casos informados en los Estados Unidos se diagnostican en hombres, y el 94% de las personas con viruela símica han tenido un contacto reciente con personas del mismo sexo.
Sin embargo, "cualquiera puede estar en riesgo de contraer la viruela del mono dada la forma en que se propaga" por contacto piel con piel, dijo Glass.
El objetivo de esta reunión, así como de las futuros, es que las personas comprendan mejor cómo protegerse a sí mismos y a sus seres queridos, según Glass.
Para reducir la probabilidad de infectarse, las personas deben evitar a cualquier persona a la que se le haya diagnosticado viruela del mono, evitar compartir ropa de cama y otros artículos utilizados por alguien que haya estado infectado o expuesto y lavarse las manos con frecuencia, indicó Bridgers. "Evite fiestas, clubes y saunas y otros lugares donde sea probable el contacto piel con piel."
Según el sitio web de viruela del mono del condado, se trata de una enfermedad rara causada por una infección. Pertenece al mismo grupo de virus que causa la viruela, pero no está relacionado con la varicela.
Hasta el momento, se han informado 379 casos en Maryland y más de 15,000 casos en todo Estados Unidos.
Se propaga a través del contacto directo con un sarpullido infeccioso, una costra o un fluido corporal, así como con las secreciones respiratorias durante el contacto cara a cara prolongado o durante el contacto físico íntimo. También se puede propagar al tocar elementos usados ​​por alguien infectado.
Gran parte del ayuntamiento se dedicó a responder preguntas de los participantes, que se preguntaban sobre la cuarentena, la equidad de las vacunas, dónde encontrar proveedores médicos que afirman LGBTQ+ y cuándo podrían esperar ser vacunados.
Join us tonight for a virtual town hall focused on Monkeypox (MPX.) It runs from 6 to 7:30 p.m. and will be streaming but if you want to ask a question you must register here. https://t.co/XOX6ZawPRV pic.twitter.com/5NjDZYVWpE

— County Exec Marc Elrich (@MontCoExec) August 22, 2022
Aquí puede ver la reunión virtual.