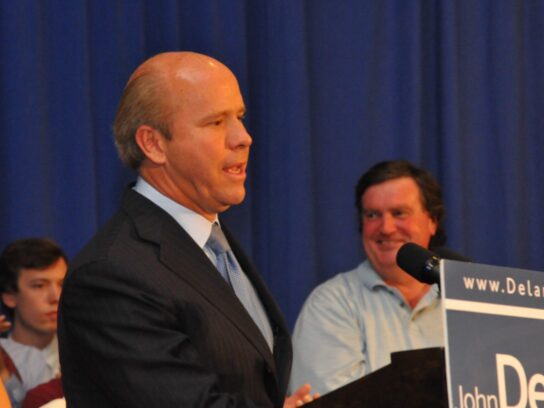 Former Rep. John Delaney (D-Md.) of Potomac did not qualify for the fourth Democratic presidential debate on Oct. 15 at Otterbein University in Ohio. 
To qualify for the debate, candidates had to raise money from 130,000 donors and get 2 percent of support in four polls from June 28 to Oct. 1. The polls were approved by the Democratic National Convention. 
Delaney was a representative for Maryland's Sixth Congressional District from 2013 to 2019. His district included parts of Montgomery and Frederick counties, and all of Garrett, Allegany, and Washington counties. 
Other candidates who did not qualify for the October debate include Sen. Michael Bennet of Colorado; Gov. Steve Bullock of Montana, Mayor Wayne Messam of Miramar, Fla.; Rep. Tim Ryan of Ohio; former Rep. Joe Sestak of Pennsylvania; and author Marianne Williamson. 
The 12 candidates who will take to the stage Oct. 15 are former Vice President Joe Biden; Sen. Cory Booker of New Jersey; Mayor Pete Buttigieg of South Bend, Indiana; former HUD Secretary Julián Castro, Rep. Tulsi Gabbard of Hawaii; Sen. Kamala Harris of California; Sen. Amy Klobuchar of Minnesota; former Rep. Beto O'Rourke of Texas, Sen. Bernie Sanders of Vermont, billionaire businessman Tom Steyer; Sen. Elizabeth Warren of Massachusetts; and tech entrepreneur Andrew Yang.
12 candidates are in the Democratic debate later this month. So far, 5 of them have also qualified for the November one. Keep track of who's in, who's out and who's on the cusp. https://t.co/LkLJ3ZGH4J

— NYT Graphics (@nytgraphics) October 2, 2019