Best-selling author and longtime resident of Montgomery County John Feinstein has just come out with his 45th book, "Raise a Fist, Take a Knee: Race and the Illusion of Progress in Modern Sports." He told MyMCM, "this is the most important book I've written."
Based on interviews with about 100 players, coaches and others, the book is an examination of racial inequality in the world of sports."Everyone I talked to trusted me and believed I was doing it for the right reasons," Feinstein said.
Doug Williams, the first Black quarterback to win a Super Bowl, wrote in the foreword, "None of us are trying to make race an issue. Race IS an issue."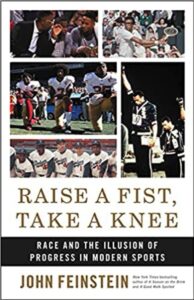 Feinstein said, "I was inspired to write (the book) by the anthem protest of 2017. It was mostly Black players kneeling and mostly White fans booing." He wanted to address "the elephant in the room." The book explores, "why we're so polarized racially. Here's why and here's what it's like."
The late John Thompson, Jr., Basketball Hall of Fame coach at Georgetown University, told Feinstein, "you need to write this book." Colleagues and fellow columnists at The Washington Post, Michael Wilbon and Kevin Blackistone, also gave their blessings.
"I am an outsider. I can sympathize but I cannot empathize," Feinstein said.
If you are looking for a last minute Christmas present, the book, published by Little, Brown is available at most local book stores and also on amazon.com and feinsteinbooks.com.