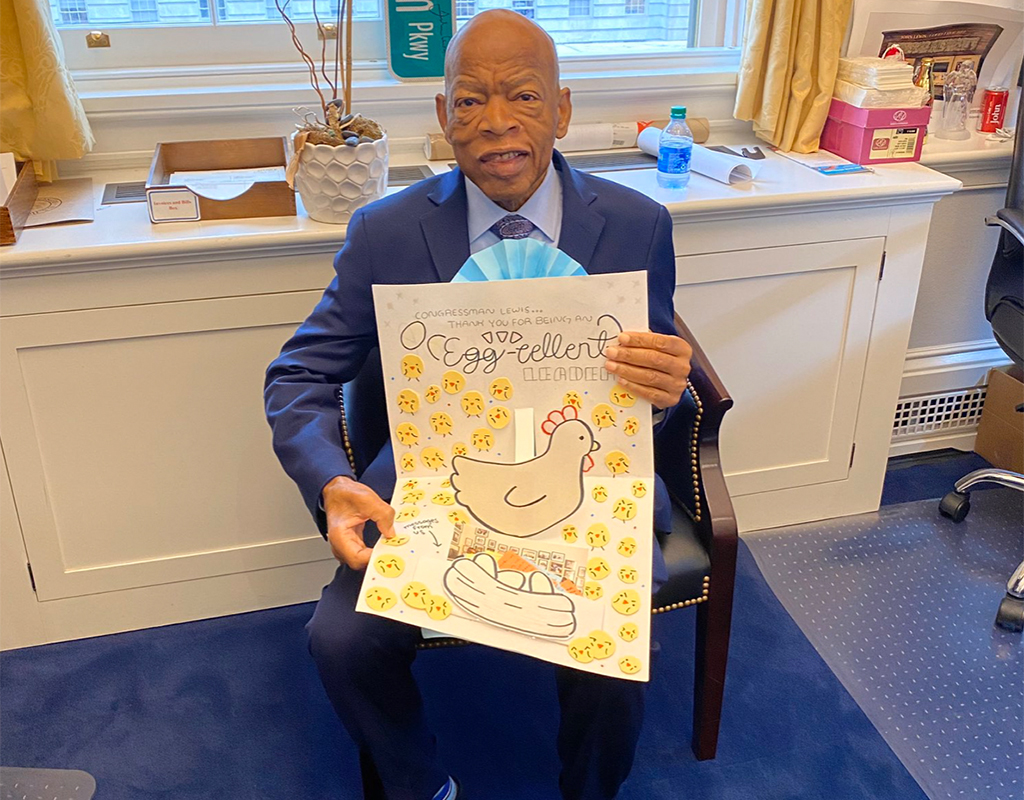 John Lewis Receives Well Wishes from Richard Montgomery Student Leaders
Student leaders involved in Richard Montgomery High School's Jaguar Scholars Leadership Program (JSLP) have nothing but respect for the civil rights icon John Lewis.
In March 2019, Jerome Price, the faculty coordinator and founder of JSLP, took his student leaders on a field trip to the U.S. Capitol to meet with U.S. Rep. Lewis (D-Ga.).
Price said when his students found out Lewis is fighting stage 4 pancreatic cancer, they sent him a pop-up card with personal messages. The card has a pop-up chicken, as Lewis previously told the students he wanted to be a preacher when he was young and would preach to his chickens. His office even displays pictures and "collectibles" of chickens, Price said. 
The student leaders were more than excited by Lewis' photos with their card.
"When I shared the picture of him with our card to my Jaguar Scholars, they were overwhelmed!" Price said.
Students were as touched as they were excited.
"It really warms my heart that he looks so happy with our card," said JSLP President and sophomore Aaron Oginni. "It was a bit surreal meeting someone I never imagined I would meet."
"We might not be able to help him medically, but we can tell him how much he means," said vice president and sophomore Carmela De Llano Hernandez. 
To those who doubt whether or not young people today have empathy, are engaged in politics, or care for others, my Jaguar Scholars prove that they do.

When my young leaders found out that Congressman John Lewis was battling stage 4 cancer, they wanted to do something special

— Jerome A. Price (@mrpricehistory) February 14, 2020
office features many pictures & collectables of chickens. So this student-created pop-up card is clearly fitting. My 50 student leaders wrote short personal messages to him. @repjohnlewis @RMHS_Principal

He received our card! Thank you, Congressman Lewis!#JSLP#ProudTeacher pic.twitter.com/8JROYqigV0

— Jerome A. Price (@mrpricehistory) February 14, 2020
— MyMCMedia staff reporter Deirdre Byrne contributed to this report.
Previous post
Student Leaders at Richard Montgomery Meet Civil Rights Icon John Lewis