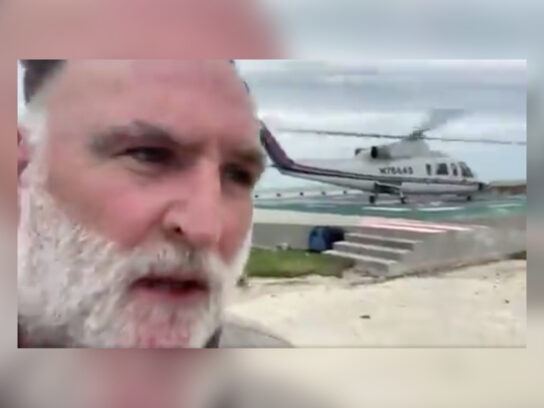 José Andrés, the celebrity chef, along with his World Central Kitchen staff rode out the storm over the weekend to assist affected victims of Hurricane Dorian in the Abaco and Grand Bahama Islands. 
The non-profit World Central Kitchen led by Andrés is an organization that is devoted to providing meals to victims affected by natural disasters. Andrés is a Bethesda resident with six restaurants in the D.C. metropolitan area including Jaleo in Bethesda.
On Aug. 29, the team first stopped in Florida with two helicopters and a boat to prepare for Hurricane Dorian. At the storm's peak on Sunday, Andrés took a helicopter filled with food and supplies for meal-prep to Nassau, Bahamas. With the support of the Bahamian government, Andrés and his team settled in kitchens of the biggest resort, Atlantis, in preparation for food distribution.  
The National Hurricane Center said Sunday that Hurricane Dorian became the strongest storm to strike the Bahamas.
 The storm hit the Abaco Islands on Monday morning as a Category 5 reaching winds of 185 mph up to 220 mph. Dorian slammed into the islands with non-stop rain and flooding destroying communities.   
Hurricane Dorian remains deadly as it heads to the east coast of Florida, the National Hurricane Center said.
With kitchens identified, Andres began initial food deliveries by helicopter to Abaco Wednesday morning.   
Reporting in from Marsh Harbor in Abaco where there is a lot of hungry people….We @WCKitchen are setting up a kitchen here now & will also be bringing thousands more meals tomorrow from Nassau. We have to move quick! #ChefsForBahamas pic.twitter.com/hmqEkKkO5l

— José Andrés (@chefjoseandres) September 4, 2019
Andres made sure to keep contact with Abaco and Grand Bahama Islands to establish relief kitchens in hotels that have made it through the hurricane. 
"If kitchens are destroyed, we build one and cook in big paella pans," Andrés tweeted. 
How do we organize a response in Bahamas? Here's our current map we are working from…. @WCKitchen has kitchens ready to go and shelters mapped out. If kitchens are destroyed, we build one and cook in big paella pans! https://t.co/yNzrfrKIaS pic.twitter.com/fa4sBN8qMe

— José Andrés (@chefjoseandres) September 1, 2019
The team has been prepping and making over 1,000 ham and cheese sandwiches before they were delivered to Abaco.  
The major relief effort is now well underway and aims to deliver over 30,000 meals daily. Andrés posted on his Twitter that he hopes to make connections with the communities.