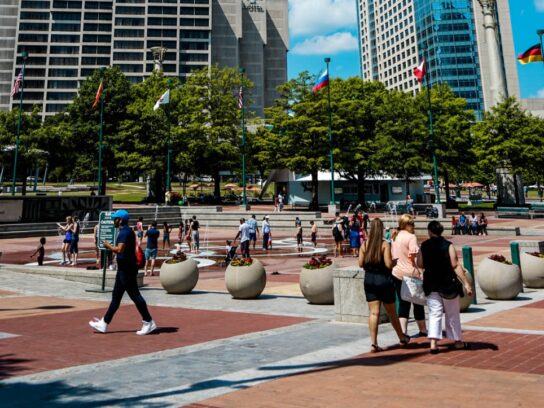 Welcome to our Weekend Roundup of events in Montgomery County. Here are nine things to do this weekend:
Friday, July 8
Wheaton Summer Concert Series: Come out for a night of blockbuster movies and live music ranging from R&B to Reggae at Wheaton's TGIF Summer Concert Series! The event takes place every 2nd and 4th friday of July-August from 6 p.m. to 8:30 p.m. Concerts will be located at the Marian Fryer Town Plaza on 2424 Reedie Drive, Wheaton, MD 20902. The event is free to the public, with flyer details found here. 
Olney Skate Night: Love skating? Then bring a friend to Olney for a fun skate night! From 6 p.m. to 8 p.m., indulge in food trucks, a live DJ, and popular Montgomery County skaters at Olney Manor Recreational Park. The location for the skate park is 16601 Georgia Avenue Olney, MD 20832. The event is open to all skating abilities and a giveaway will also be present.
Skate Night on Friday, July 8, 6 pm to 8 pm, at Olney Manor Recreational Park celebrates women skaters! Meet popular local skaters and get free lessons.

Free admission, food truck, disc jockey, and giveaways!: https://t.co/RmqWgS06fy.#SkateTwitter #DCSkateboard pic.twitter.com/ecNdJ8nSVW

— Montgomery Parks (@MontgomeryParks) July 5, 2022
Movies Under the Stars: At 8:30 p.m., Cabin John Village will host a movie screening for the 1992 film, Sister Act. The event is free to the public, and is located at 11325 Seven Locks Road, Potomac, MD 20854. Bring a blanket, family/friends, and enjoy! For upcoming movie night dates and event registration, click here. 
Saturday, July 9
Bloom at Good Hope Concert Series: At 5 p.m., The Strathmore will host a performance for Ellington Carthan, a jazz pianist from Baltimore, Maryland. The performance is a part of their Bloom initiative, which "strives to create community and expand access to the arts," as written on their website. The location for the show is in the Good Hope Neighborhood Recreation Center, at  14715 Good Hope Rd, Silver Spring, MD 20905. To RSVP for the event, click here. 
So pumped for my FREE concert at the @strathmore next weekend!! The night of music starts at 5pm! 🎶🎹 pic.twitter.com/EQLlYoHdmi

— Ellington Carthan (@EllingtonPiano) June 29, 2022
Glen Echo Park's 'Diverse Voices': From 11 a.m. to 3 p.m., Glen Echo Park will host a program dedicated to sharing Civil Rights History with the public. The event includes storytelling, music, and photography from local community members. Diverse Voices is free to the public, with RSVP preferred but not required. The program timeline can be found here. 
FRESHFARM Market: In need of fresh foods? Head over to Downtown Silver Spring for FRESHFARM, an afternoon where 45 farmers and producers from the DMV and Pennsylvania sell produce, wine, flowers, and more. Anyone can come out from 9 a.m. to 1 p.m. every saturday, from now until Dec 31. The address is 1 Veterans Pl, Silver Spring, MD 20910. For more information on which markets will be there, read here. 
Sunday, July 10
Silver Spring Arts & Crafts Fair: Chic Events DC is hosting a day of activities, performances, and music in Downtown Silver Spring. The event will run from 1 p.m. to 7 p.m. and is located at 1 Veterans Place, Silver Spring, MD 20910. 
The family-friendly Silver Spring Arts & Crafts Summer Fair is coming July 10th, 1PM-7PM to Veterans Plaza! In addition to LOTS of arts and crafts, enjoy music, dance, performances, and more. https://t.co/8pwCa6425R pic.twitter.com/NxZkuddYEj

— Silver Spring Urban District (@SilverSpringMD) June 20, 2022
VisArts Exhibition: View artist Zsudayka Nzinga's painting "Theres No Place Like Home" at the VisArts center in Rockville. The galleries are open Wednesday-Thursday from 12-4 p.m., Friday from 12-8 p.m., and Saturday-Sunday from 12-4 p.m. The address for VisArts is 155 Gibbs St, Rockville, MD 20850.
Bethesda Central Farm Market: Hosting more than 100 vendors, the Bethesda Central Farm Market is one of the biggest in the region. Featuring children's activities, music, chef demos, and more, the market is a great event for people of all ages. It's open all year round, from 9 a.m. to 1:30 p.m., at 7155 Wisconsin Avenue, Bethesda, MD 20814. The farm map can be found here.