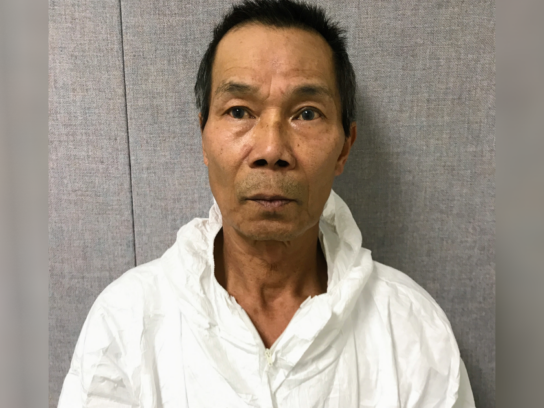 A jury convicted a Silver Spring man on Wednesday in Montgomery County Circuit Court for the stabbing attack of three people.
Biet Van Tran, 65, was convicted on charges of first-degree murder for the stabbing death of Linh Pham, 23, and two counts of attempted first-degree murder for the attacks of Quy Luc, 30, and Thi Nguyen, 19.
On May 9, 2020, the victims drove from Florida to Luc's mother's home located at 911 Balmoral Drive in Silver Spring. She had recently suffered a stroke and was staying at a rehabilitation center. Luc planned to care for his ill mother and handle issues related to the house. Her boyfriend, Tran, was still living at the residence
On May 11, 2020, Luc and Tran argued over money in the basement of residence located in the Hillandale section of Silver Spring. Tran then proceeded to attack Luc with a chef's knife, according to a press release. Tran was able to escape to a neighbor's house for help. However, his girlfriend Pham and their roommate Nguyen were inside the residence. The defendant then attacked the two woman–Pham died from her injuries and Nguyen was severely injured.
At approximately, 3:22 p.m., Tran called police and reported he had killed someone and asked for officers to take him to jail. Upon arrival, police found Pham deceased from one stab wound that penetrated from her back through her chest, according to court records. Nguyen was transported to a local hospital with wounds in her arm, chest and abdomen. She told officials the "old man" had stabbed her.
Investigators were able to find the knife in a knife block in the kitchen with what appeared to be blood residue on the blade. DNA testing later determined the blood on the blade was of the two women.
Tran was questioned at police headquarters where he confessed to stabbing the three victims.
At a press conference on Wednesday, Montgomery County State's Attorney John McCarthy called the incident a "savage" attack. He said the motivation of the attack seems to have been because Luc brought two women into the house–where there had been previous animosity between the two men.
Tran had a prior conviction in 1993 for attacking his former wife with a knife in Florida, McCarthy said. He was paroled after serving nine years in prison. Upon his release, he moved to Maryland.
"We will be seeking life without the possibility of parole. Effectively, this defendant has successfully killed one human being and tried to kill three others during the course of the last 20 years. It is our belief he should never be free in the community again," McCarthy said.
Tran is scheduled for a sentencing hearing on Sept. 20, 2022, at 1:30 p.m.