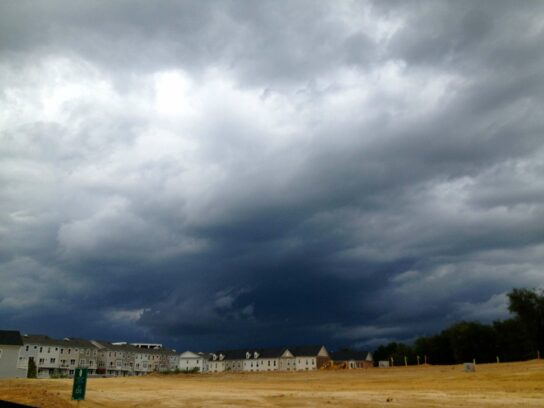 El condado de Montgomery se encuentra actualmente bajo una alerta de tornado emitida por el Servicio Meteorológico Nacional hasta las 7 p.m. Se espera que las inundaciones repentinas del huracán Ida sean tan graves que las Escuelas Públicas del Condado de Montgomery cierren temprano el miércoles. Muchas escuelas privadas de la zona han seguido su ejemplo.
Montgomery College también anunció que cerrará temprano, pero las clases remotas y en línea están en curso:
MC ALERT:All @montgomerycoll in-person classes and activities for Wednesday September 1st effective 1:30PM are cancelled. Remote or online classes are to proceed. Check email.

— MC Dual Enrollment (@DualEnroll_MC) September 1, 2021
El estado de Maryland ofrece una licencia a partir de la 1 p.m.  del miércoles hasta las 6 a.m. del jueves debido a las condiciones:
The State of Maryland has declared liberal leave statewide beginning at 1 pm and lasting through 6 am tomorrow due to the potential for severe weather.

More info here: https://t.co/ZTrciVKgcK

— Kata D. Hall (@katadhall) September 1, 2021
El Centro de Recreación Comunitario de Mid-County está cerrado porque servirá como lugar de recepción para los residentes de los dos edificios de apartamentos de Rockville afectados por las inundaciones.
🆕 The Mid-County Recreation Center in Silver Spring has been designated a reception center for residents displaced by flooding today. @RedCross and @MoCoDHHS are on site to assist. Read the news release here 📰 ➡️ https://t.co/NRXanmb61b pic.twitter.com/8j7gNrntdl

— Montgomery County MD (@MontgomeryCoMD) September 1, 2021
La biblioteca Noyes en Kensington está cerrada debido a un problema con las instalaciones:
From @MCPL_Libraries: The Noyes Library is closed today due to a facilities issue (Sept. 1)
For branch information: https://t.co/eCkERPiI0N pic.twitter.com/XvKoyzK24R

— Montgomery County MD (@MontgomeryCoMD) September 1, 2021
Montgomery Parks anunció que Brookside Nature Center está cerrado por renovaciones.
Brookside Nature Center, Montgomery Parks' building closes today for renovations.

But, staff will be around this fall and winter with fun, exciting programs at its outdoor nature spaces and on the trails.

Learn more about the renovations: https://t.co/DynP3RKhzY. pic.twitter.com/d5vp1vjjwr

— Montgomery Parks (@MontgomeryParks) September 1, 2021
Los centros para personas de la tercera edad están cerrando:
The Rockville Senior Center and Croydon Creek Nature Center will be closing at 2 pm today (9/1) due to the weather.

— City of Rockville (@Rockville411) September 1, 2021
La ciudad insta a los residentes a que retiren los botes de reciclaje y basura de la acera:
With heavy rain forecast for this afternoon, city streets could quickly become rivers. If today is your collection day, move recycling and trash carts from the curb as soon as you can. Not at home? Ask a neighbor to secure it for you. Be safe, Rockville! https://t.co/XLddHNRqOR pic.twitter.com/nmsJD1dOMo

— City of Rockville (@Rockville411) September 1, 2021
La ciudad de Takoma Park tuiteó instrucciones sobre cómo recibir alertas de la ciudad:
#TKPK remnants of Ida are on the way! Are you signed up for Takoma Park Alerts?

During storms accurate information is vital – Sign up Today!
https://t.co/oHVI6YZGWm https://t.co/rLTxxqjXGL pic.twitter.com/viliSg3KJL

— TakomaParkMD (@TakomaParkMD) August 31, 2021
Calles cerradas:
Estos tweets de cierre de carreteras se publican del más nuevo al más antiguo, por lo que parte de esta información podría haber cambiado.
Happening Now: Twinbrook Parkway between Veirs Mill and Halpine is closed. @MCDOTNow Storm Operations Center (SOC) continues to monitor the weather forecast. pic.twitter.com/0pjrCyfldH

— MCDOT (@MCDOTNow) September 1, 2021
The 1200 block of Kirklynn Avenue is closed due to wires down. Pepco is en route. pic.twitter.com/W5EPMA2HPS

— Takoma Park Police (@TakomaParkPD) September 1, 2021
Beach Dr @ Connecticut Ave, 10am.

This road is already closed, but if you find conditions like this elsewhere, turn around don't drown. Trying to drive through puts your life and the lives of first responders at risk. Cars can start floating in as little as 6 inches of water. pic.twitter.com/jTcwZMtwgX

— Park Police MC (@ParkPolice) September 1, 2021
Rec Alert: Mid-County Community Recreation Center is closed for the day. The Center is a reception center for residents, from two Rockville apartment buildings, who were affected by flooding. pic.twitter.com/xycaAGM4sD

— MoCo Rec (@MoCoRec) September 1, 2021
UPDATE (Wednesday, September 1, 8:45 am)

Due to rain showers, Black Hill Boats is closed today.

And, all natural surface trails are closed: https://t.co/OGpwm1lBVG. pic.twitter.com/TmGrt7AE2d

— Montgomery Parks (@MontgomeryParks) September 1, 2021
UPDATE (Wednesday, September 1, 9:16 am)

South Germantown Driving Range will be closed today due to inclement weather. pic.twitter.com/Rxv39xO300

— Montgomery Parks (@MontgomeryParks) September 1, 2021
The intersection of Bradley Blvd. and Seven Locks Rd. is closed due to flooding activity. The intersection of Kentsdale Dr. and Bradley Blvd. is also closed because of flooding activity. Drivers are advised to seek an alternate route. Expect significant delays. #mcpnews pic.twitter.com/HeS57WjiJ2

— Montgomery County Department of Police (@mcpnews) September 1, 2021
Update: Eastbound Falls Road at Great Falls Road is now open. Westlake Drive at Turkerman Lane is closed due to flooding activity.

— Montgomery County Department of Police (@mcpnews) September 1, 2021