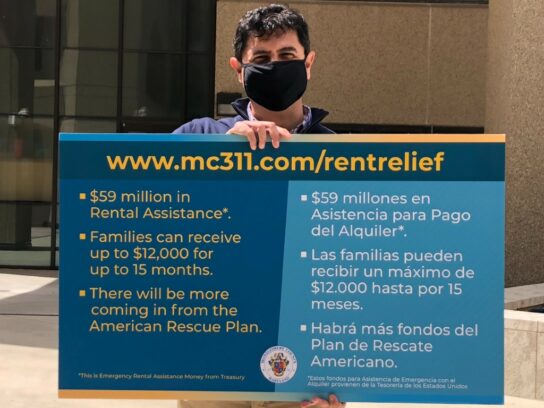 Montgomery County Executive Marc Elrich and other county leaders held a press conference Friday to announce additional rent relief for eligible residents.
Phase 3 of the county's COVID-19 rent relief program is open for applications, with $59 million in federal funding available to help low-income households that have lost income due to the pandemic.
Tenants who are interested must meet the following criteria:
Have experienced a loss of income due to COVID-19
Gross household income from previous 30 days at or below 50% of AMI
Have been a Montgomery County resident since August 2020
Owe at least $1,000 or more in rent
Eligible residents can apply and see frequently asked questions here.
"These funds will help those families stay in their homes and even more importantly, provide a bridge so that additional resources through other agencies can provide a holistic and wrap-around approach," County Council Vice President Gabe Albornoz said. Information about legal aid and support organizations can be found here. 
Elrich urged residents to spread the word to those who may not otherwise hear about the program.
"Money is important but meaningless if people don't get access to it," Elrich said. "So if you're in the community, if you're working with community groups and you know people who aren't able to pay their rent, you know people who are facing eviction— help them."
Albornoz agreed.
"These funds are critical but as he said, if people don't know about them and they're not utilized, then they're not going where they're the most needed," he said. Applications will be accepted on a rolling basis, as long as funding is available.
Homes under formal and informal leases are eligible and you can reapply even if your household received support in earlier program phases. Social security numbers and evidence of legal status are not required.