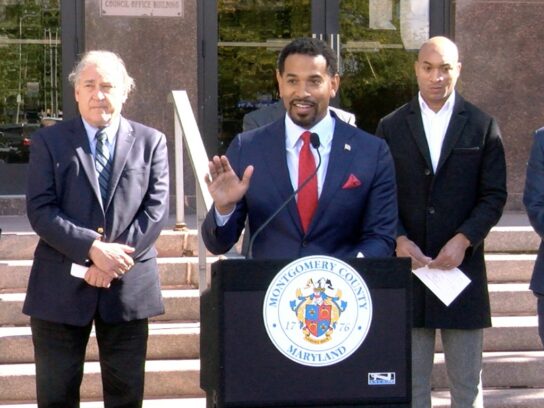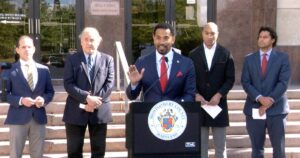 County leaders announced a guaranteed income pilot program to provide monthly cash payments to 300 households.
Each of the 300 households will receive $800 per month for 24 months, said Councilmember Will Jawando, a lead sponsor of the $1,993,832 council special appropriation to fund the program. A public hearing is scheduled for Nov. 2.
Guaranteed income programs aim to empower people to make the best decisions for themselves and their families, Jawando said during a press conference Tuesday afternoon.
"When your basic needs are met, you can make more strategic decisions. When you are in financial distress or crisis, you make short-term rather than long-term decisions. And that has a lasting impact not only on those families but on all of us here in the county," he said.
"These $800 can make the difference between paying rent or not, between having food on the table or not," said Council Vice President Gabe Albornoz, also lead sponsor of the appropriation.
"But also, potentially whether or not a young person can participate in an after-school program, or engage in college access and readiness programs that can improve their families."
Councilmembers Evan Glass, Craig Rice, Hans Riemer and Council President Tom Hucker are co-sponsors, according to a council staff report. Jawando said the county has a general framework for the households to be included in the program and will engage in a process over the next several months to narrow down and decide which 300 will participate. He said 100 will be in the homelessness Continuum of Care system. He emphasized it is not a sign-up program but a community-engagement process.
The program is a partnership between county government, County Executive Marc Elrich, the County Department of Health and Human Services, the Meyer Foundation, the County Collaboration Council for Children, Youth and Families and other partners. Over the next two years, the Universities of Shady Grove will support evaluation of the pilot and will pull researchers from University of Maryland systems.
Jawando said payments will begin going out in the first quarter of 2022.
The Meyer Foundation committed $1 million to the program and the county council and Elrich will work to secure additional funding. The $1 million plus the council special appropriation will cover the first seven months of the pilot and the full cost of payments for 24 months is $5.76 million.