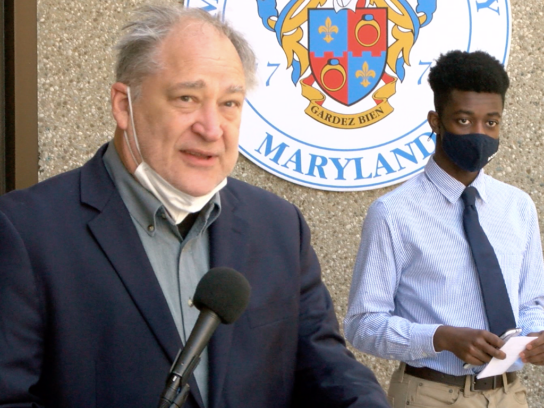 Montgomery County Executive Marc Elrich joined local leaders Friday to announce the interagency "Reimagining School Safety and Students' Well-Being Initiative," which aims to reshape public safety in Montgomery County Public Schools (MCPS) and provides social and mental support to students.
A steering committee will lead discussion and implementation of recommendations for reimagining safety and mental health supports in MCPS and the county, Elrich explained. It will be chaired by representatives from MCPS, the county health department (DHHS) and county police (MCPD). The committee will include students and representatives from schools, the board of education, the DHHS, the council and police department.
The committee will provide a preliminary report with recommendations to Elrich and MCPS Interim Superintendent Dr. Monifa McKnight by June 15 and a final report by Sept. 30. Elrich said he fully expects recommendations will start being implemented as soon as possible and that not everything will wait for Sept. 30.
Student Member of the Board (SMOB) of Education Nick Asante acknowledged that over the past year, school resource officers (SROs) have been the subject of much debate. 
"The data clearly demonstrates that there are disproportionate rates of suspensions and expulsions in MCPS for Black and Latino students," Asante said. He thanked Elrich and the council for launching the initiative.
Last week, Councilmembers Will Jawando and Craig Rice announced they will convene a task force to grow mental health professionals and other support services in MCPS, with the intention that police officers will not be in schools everyday. On Friday, Jawando said the task force will make recommendations to the steering committee. He said the council will take up any investments necessary to support students.
"There will be more school psychologists, there will be more social workers, there will be more counselors," Jawando said. "That will come out of this process — it's a historic day for the county."
MCPD Chief Marcus Jones said police are as concerned about students' safety and welfare as much as anyone else in the county.
"Our school resource officers have always had the students and the staff of Montgomery County Public Schools at the forefront of their concern," Jones said. "And that is still the same today."
"But we know where we are today. We will be looking at whatever changes that will be for the betterment for all of our students," he said.