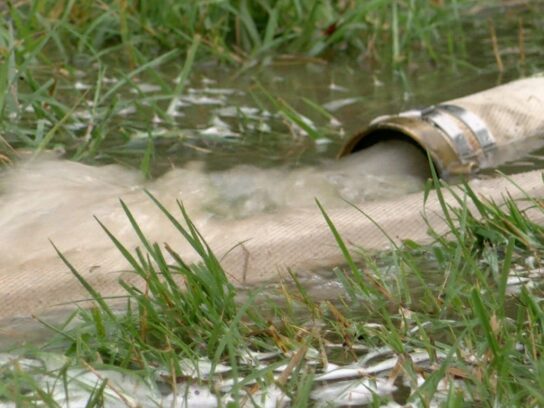 Montgomery County will address flooding and stormwater management as part of its Climate Action Plan, leaders said during a virtual county council meeting Tuesday.
Councilmember Evan Glass noted a young man died early this month due to flooding. 19-year-old Melkin Daniel Parada Cedillo died at the Rock Creek Woods Apartments in Rockville. About 150 people were displaced.
Glass cited an Office of Legislative Oversight (OLO) report he commissioned earlier this year. It found there were about 2-4 flooding events annually in Montgomery County before 2010. But since then, that number has jumped to 11-39 flooding events annually. The report found flooding poses the most serious climate risk to county infrastructure.
Adriana Hochberg – the county's first Climate Change Officer – said there is a lot of work to be done. That includes vulnerability assessments in different areas of the county, repairs and enhancement of culverts without causing further damage, updating floodplain maps and centralizing county climate data currently in different places, among other efforts. She said not all floodplains are currently mapped. County Executive Marc Elrich released the Climate Action Plan in June. It includes 86 measures to cut greenhouse gas emissions (GHG) by 100% by 2035.
Department of Environmental Protection (DEP) Director Adam Ortiz said the Sept. 1 fatal flooding was a tragedy. While discussing racial equity and social justice measures in the plan, he said DEP is doing a deep-dive with sister agencies to understand what other areas in the county are vulnerable to flooding. He said the county has done mapping to determine where economically and socially-vulnerable populations are located and where they overlap with environmentally-vulnerable areas.
Hochberg said technical consultants for the climate plan scaled global climate change models down to the county to offer an idea of what the jurisdiction can expect in terms of future risks. She said Montgomery County can expect more extreme precipitation events. She thinks what occurred this summer is a prelude of what is to come.
[hr]
Previous Post:
More Than $30,000 Raised for Family of 19-Year-Old Killed in Apartment Flooding
County Climate Plan Offers 86 Actions Including Energy, Transportation and Public Engagement Measures