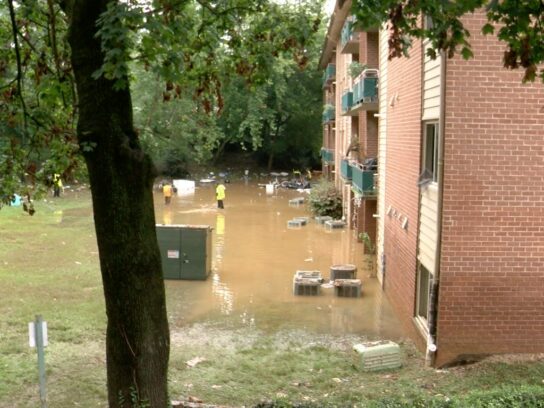 19-year-old Melkin Daniel Parada Cedillo died after the Rock Creek Woods Apartments in Rockville flooded early Wednesday morning, Montgomery County Police said.
His family set up a GoFundMe online fundraiser to help his mother. As of 5 p.m. Thursday, the fundraiser amassed over $30,000.
One resident who was unaccounted for after the flooding was located unharmed, police said. About 50 residents were sheltered overnight at the Mid-County Community Recreation Center in Silver Spring and were assisted by the Red Cross and Montgomery County. About 150 people were displaced in total. The remnants of Hurricane Ida caused heavy rain in the Washington region.
Overnight, county Health and Human Services (DHHS) made sure kids staying at the recreation center had school supplies, like backpacks, and Montgomery County public school buses came by to pick up students Thursday morning.
The recreation center will likely stay open for a few more days as residents find a stable place to stay. The county will work to find affordable long-term renting options for them, as well as help with other needs like furniture, said Patrick Campbell, Senior Planning Manager for Mass Care Operations with DHHS.
Social workers will continue to follow up with affected families.
County Executive Marc Elrich said people who want to help can donate to Interfaith Works and the local Red Cross chapter. The county is planning additional opportunities to help these residents.
The police department asks residents who may have left the apartments to call the non-emergency number at 301-279-8000 so authorities can make sure everyone is accounted for.
[hr]
Previous Post:
One Resident Dead, 150 Displaced After Flooding at Rockville Apartment Complex