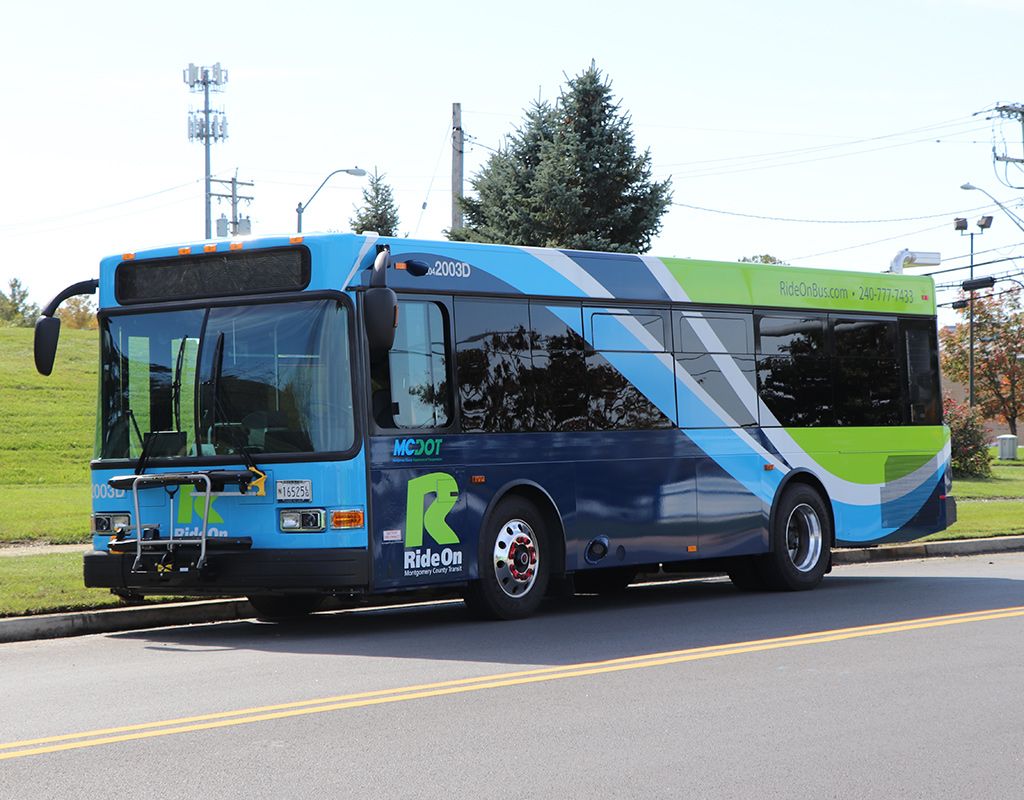 Los Autobuses del Condado Reanudarán las Tarifas a partir del 5 de Abril
El Departamento de Transporte del Condado de Montgomery (MCDOT, por sus siglas en inglés) reanudará el cobro de tarifas en todos los autobuses Ride On, Ride On extRa y Flash a partir del 5 de abril. Los autobuses también comenzarán a abordar pasajeros por la puerta principal de todos los autobuses excepto los autobuses Flash.
Desde marzo de 2020, las puertas traseras se han utilizado para abordar a los pasajeros en respuesta a la pandemia de COVID-19. Este cambio permitió a los autobuses seguir las directrices de distanciamiento social y proporcionar un contacto mínimo entre pasajeros y conductores en las cajas de tarifas de los autobuses.
"Me siento muy orgulloso de los esfuerzos proactivos y continuos del equipo que opera los servicios de tránsito del Condado de Montgomery para modificar las prácticas y procesos y desarrollar soluciones que proporcionan los servicios necesarios para mantener la seguridad y la salud de los usuarios y operadores, "dijo Chris Conklin, Director de MCDOT en un comunicado. "Estamos felices de poder dar la bienvenida a los pasajeros a través de las puertas delanteras de los autobuses nuevamente e incrementar la capacidad de los autobuses con estas nuevas medidas".
*New*@MCDOTNow will resume front door boarding and fare collection on all @RideOnMCT , Ride On extRa and Flash buses starting on Monday, April 5, 2021.

The standard cost per trip is $2.00

Details= https://t.co/mPqlDMLHVM@MontgomeryCoMD @311MC311 @WTOPtraffic pic.twitter.com/0GlTkwOFFH

— mococommuter (@mococommuter) March 23, 2021
Se han instalado separaciones transparentes en los autobuses para separar a los conductores de autobuses y a los pasajeros. Las áreas de asientos en la parte delantera de los autobuses ahora podrán reabrirse, lo que permitirá que más pasajeros viajen en el autobús de manera segura.
También se ha proporcionado el uso de tarjetas virtuales de SmarTrip para permitir un pago eficiente y sin contacto. Los pasajeros pueden agregar la tarjeta virtual a su aplicación de Apple Wallet y luego usar la tarjeta en un iPhone o Apple Watch. El pago mediante Google Wallet en dispositivos Androids aún se está desarrollando.
MCDOT le insta a los pasajeros a que se preparen con tarjetas SmarTrip, pases, efectivo o aplicaciones electrónicas antes de abordar los autobuses para pagar sus tarifas. El costo por viaje es de $2.
Todas las medidas de seguridad puestas en marcha durante la pandemia siguen vigentes. Los pasajeros deben continuar usando cubrebocas en cuanto aborden el autobús. Los autobuses se seguirán limpiando con desinfectante de grado hospitalario dos veces al día y los filtros de los autobuses y los sistemas de ventilación se tratarán con desinfectantes todas las noches.