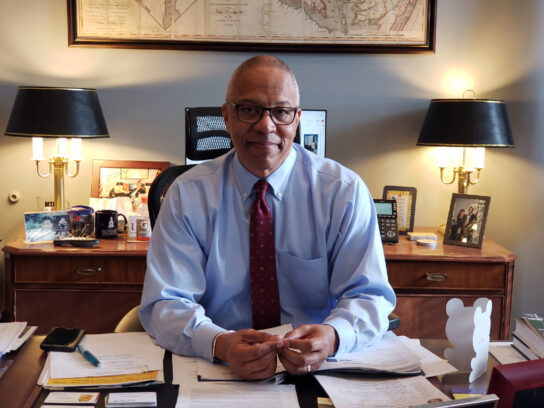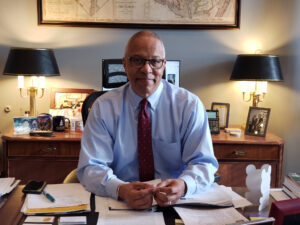 Maryland residents can be tested for the coronavirus more quickly and easily now that the state has received the authority to do its own testing, rather than having to rely on the Centers for Disease Control in Atlanta.
Testing is being done at the Maryland State Public Health Laboratory, which operates forensic laboratories in Baltimore City, Lt. Gov. Boyd Rutherford said Tuesday.
"We expect there will be more people tested, and now tests won't have to be sent to the CDC," he said. "We should be able to turn it over much quicker," he said of the results.
To date, no one in Maryland has tested positive for coronavirus. Twenty-one residents were tested, and 10 of those tests were negative. Results are pending on the other 11 people, according to the State Department of Health.
"As we speak, and I'll knock on wood, we don't have any cases in Maryland," Rutherford said. However, he added, it's important to be prepared.
During an exclusive interview in his state house office, Rutherford also condemned a Democratic-led bill that calls for broadening the state's sales tax to include professional services. The money obtained from this proposed tax expansion would fund recommendations from the Kirwan Commission, a multi-year initiative to upgrade the state's public schools.
"What they proposed is a sales tax, a huge sales tax," he said. "We are already an expense state to live in. We already are a high taxed state," he noted.
The proposed tax would also be expensive for small businesses, who will have to record the tax and then send the information to the state controller's office, he said.
Rutherford likened the Kirwan Commission to the earlier Thornton Plan, which proposed in 2002 a way to keep schools funded so that all students would have an equitable education.
Since then, "The test results, the graduation results are pretty much the same, and so the big question becomes, okay, now you are talking about spending some $32 billion over the next several years for education, but what are the guarantees we are going to see results on that?"
Rutherford agrees with some of the Kirwan Commission recommendations, including increasing the number of school counselors, social workers and mental health professionals in the schools.
He also approved of the commission's emphasis on technical training for students, "what used to be called vocational training," he said.
However, "We are concerned about the lack of accountability," and how local jurisdictions will spend the money, he said.
He spoke positively about Maryland Gov. Larry Hogan's plan to use casino money, or what Rutherford referred to as "slot money" to pay for school construction.
"Many jurisdictions, like Montgomery County, have had a big influx of school age kids" and need to renovate or build new schools, he said.
Rutherford would not say what he planned to do once his term ended Jan. 18, 2023.
"We'll see. We'll see what is going to happen," he noted.
Meanwhile, he will continue to work on heroin and opioid abuse and the barriers to getting out of poverty.
Maryland has a safety net, but when residents start to increase their income, they may lose some benefits, including childcare, Rutherford noted.
He is studying "the whole issue of generational poverty" to see how to remove the barriers that keep people from moving away from dependency on the government, he said.
And to date, he has visited 25 of the state's 75 parks and is optimistic he will see them all before his term ends.
"The benefit of being a lieutenant governor is you do what you want to do, you pick subject areas you are interested in," he said.