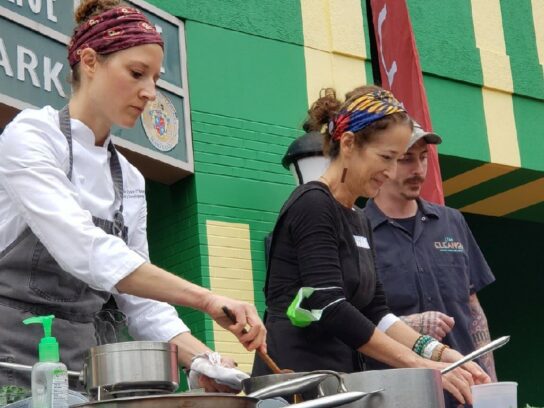 Saturday's No Waste, Big Taste competition in Downtown Silver Spring featured such foods as matzah, sundried tomatoes, "ugly" produce and browned beef. In a span of 45 minutes, two teams created an appetizer and main dish using only donated food plus a few mystery ingredients they brought with them.
The event marked the culmination of Food Recovery Week, coordinated by Manna Food Center, which strives to end hunger and is the designated food bank for Montgomery County.
"We want to build awareness of what average people can do to avoid food waste in their own house," explained CEO Jackie DeCarlo. Manna also aimed "to build awareness that some folks don't have enough food in their kitchen to waste."
One in nine county residents experience food insecurity, according to Manna.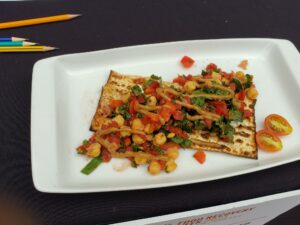 The competition and trivia contest was done in fun. She noted, "We are trying to be positive, not gloom and doom" and let people know they can be part of the solution."
Other events throughout the week featured talks on home composting and food rescue efforts in restaurants and at home.
Montgomery County sends 124,000 tons of solid food waste to the landfill each year, some of it perfectly good food that didn't look perfect or was at or slightly past its sell by date. Manna and Montgomery County are working to collect this unwanted food for redistribution to food pantries and schools.
During Fiscal Year 2021, 780,000 pounds of surplus food was donated to Community Food Rescue, which Manna operates. During the past five years, Community Food Rescue distributed more than 7.5 million pounds of food. That is the equivalent of 6.5 million meals, according to Manna.
Judges at the competition were Rev. Kendra Smith of Kingdom Fellowship AME Church, Delegate Jared Solomon (D-18) and Rick Chessen of Rick Eats DC. They awarded points for using all the ingredients, making a healthy dish, not wasting anything and, of course, tasting great.
That panel chose Team 1 – Jennifer O'Brien, Senior Manager Culinary Luxury at Marriott International and Nia Nyamweya, Beauty Blooms Farm. They created a beef kofta dish that Judge Chessen praised for being crisp on the outside and moist on the inside.
Coming in second place, was Team 2 whose chefs were Jacob Mosbrucker, Head Chef at The Eleanor in Silver Spring and Sophia Maroon, Founder and CEO of, Dress It Up Dressing 2.
Judges at work pic.twitter.com/KwFNEuBCpy

— suzanne pollak (@SuzannePollak) October 9, 2021
Related post: