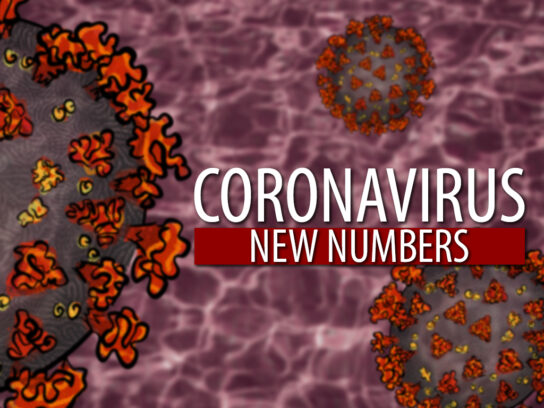 Montgomery County COVID-19 Statistics
Wednesday morning the Maryland Department of Health reported 16,593 cumulative cases of COVID-19 in Montgomery County, which is an increase of 73 from the 16,520 cases reported Tuesday.
Since the first case in March, 738 county residents have died from COVID-19. This is an increase of two since Tuesday. More Montgomery County residents have died due to COVID-19 than any other jurisdiction in the state. Prince George's has lost 702 residents, the second-highest number.
The positivity rate of 3.27% reported Wednesday is a decrease of 0.16% since Tuesday. This is the eighth straight day the rate remained below 4% in the county.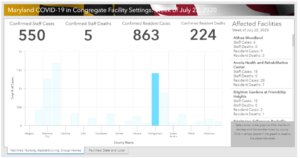 According to the health department, 23 senior living facilities in Montgomery County report at least one confirmed case of COVID-19 at this time.
Maryland COVID-19 Statistics
As of Wednesday morning, there have been 80,172 confirmed cases throughout the state. That is an increase of 627 cases in the last 24 hours. COVID-19 has claimed the lives of 3,276 Marylanders, four since Tuesday.
Currently, 505 Marylanders are hospitalized with COVID-19, which is 21 more than Tuesday. The number of patients hospitalized has been rising since July 13.  Of the patients currently hospitalized, 137 are in intensive care, which is six more than Tuesday.
The health department reported a testing positivity rate of 4.49% Tuesday, which is no change from Tuesday's rate. The rate has remained below 5% for more than three weeks since June 26.
Statewide, a total of 23,503 cases and 1,336 deaths involve the state's African American community.
Maryland reports the number of confirmed COVID-19 cases and deaths that have occurred in senior living facilities weekly on Wednesday mornings. Senior living facilities include nursing homes, assisted living facilities and group homes.
The health department reports there have been 13,515 cases and 2,001 deaths associated with senior living facilities throughout the state. The number of cases increased by 348 since the July 15 report, deaths by 23.
According to the health department, there are currently 135 facilities with at least one confirmed case of COVID-19. Twenty-three of these facilities are located in Montgomery County.
Cumulative COVID-19 Cases and Deaths in Maryland Nursing Homes, Group Homes and Assisted Living Facilities
| | | |
| --- | --- | --- |
| Date of Report | Cases | Deaths |
| July 22, 2020 | 13,515 | 2,001 |
| July 15, 2020 | 13,167 | 1,978 |
| July 8, 2020 | 12,934 | 1,961 |
| July 1, 2020 | 12,658 | 1,920 |
| June 24, 2020 | 12,462 | 1,880 |
| June 17, 2020 | 12,168 | 1,830 |
Here are the statewide statistics as of Wednesday, July 22. The first column is for the number of cases. The next column is the number of deaths, which is in parentheses. The second number in that column is the number of probable deaths.