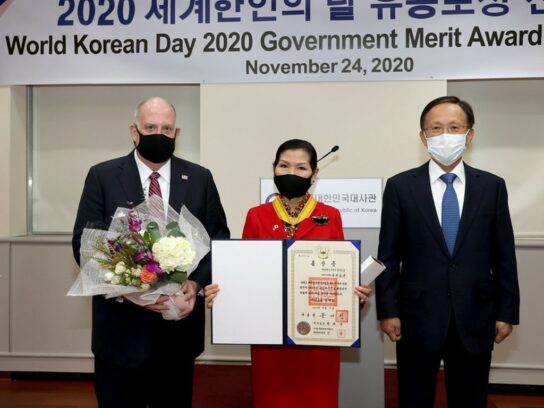 Yumi Hogan, Maryland's First Lady, was awarded the Order of Civil Merit of the Republic of Korea — the country's "highest and most prestigious civilian honor," according to a press release by the governor's office.
The ceremony took place Tuesday at the Embassy of the Republic of Korea in Washington, D.C. Hogan is one of the few Korean Americans in the Washington-Metropolitan area to receive a top third grade of the order of civil merit.
In the statement, Gov. Larry Hogan called the First Lady a "strong voice for the Korean American community."
Hogan is the first Korean American First Lady of any U.S. state. Her mission is to promote Korean culture and heritage, connect her home country with Maryland and bring different generations of Korean Americans together, she said. Her work with international diplomacy and her efforts in serving the state's diverse communities are recognized by the award, according to the press release.
"Our success is thanks to the many Korean Americans in Maryland who have kept our community's legacy alive, and our partners in Korea who share special friendships with our state," the First Lady said.
During a ceremony today at the @ROKEmbDC, First Lady Yumi Hogan was awarded the Order of Civil Merit of the Republic of Korea—the nation's highest and most prestigious civilian honor. pic.twitter.com/HsipeTHp8O

— Governor Larry Hogan (@GovLarryHogan) November 24, 2020
Gov. Hogan said the First Lady championed a major negotiation for the state. In late April, Maryland received 500,000 COVID-19 test kits from the South Korean company LabGenomics, part of an operation dubbed "Operation Enduring Friendship."
A Nov. 20 article from The Washington Post claims that the tests were "flawed and weren't used." During a press conference three days later, the governor said "we have not had a single problem" with a test kit from South Korea, but the state has had issues with lab capacity and getting other materials like swabs. He said the tests worked fine, but FDA guidelines changed so Maryland "got the company to upgrade to even faster tests" that met those guidelines, and the state has been using them for months.