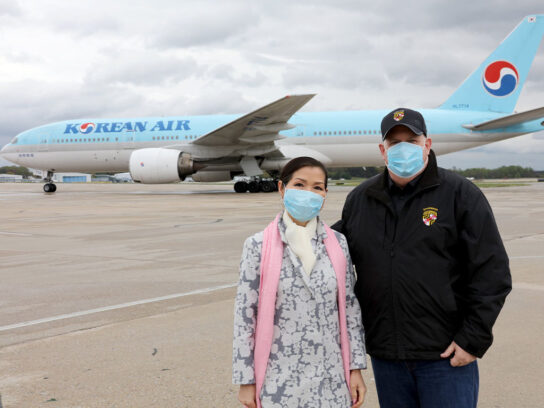 Gov. Larry Hogan announced Monday Maryland has received 500,000 coronavirus tests from South Korea.
"The 500,000 test capacity, which we have just acquired is equal to the total amount of testing, which has been completed by four of the top five states in America combined," Hogan said.
The deal was made with the help of Hogan's wife, Maryland First Lady Yumi Hogan, a Korean immigrant who speaks fluent Korean. The news comes a day after Hogan appeared on CNN expressing his frustration about the lack of COVID-19 tests.
"My wife Yumi, she truly is a champion of this operation," Hogan said, thanking Maryland's First Lady.
On Saturday, Gov. Hogan and the First Lady accepted the delivery of LabGun PCR coronavirus test kits on the tarmac at Baltimore-Washington International Airport. It was the first time a Korean Air plane had ever taken a direct freight flight from Incheon Airport to BWI.
The New York Times reports the flight was "carrying 5,000 test kits, which officials said would give the state the ability to make 500,000 new tests."
We are proud to support Operation Enduring Friendship. One reason the airport remains open is to help fulfill our important role in supporting emergency response. #COVID19 #MarylandStrong #FrontlineMDOTforYou https://t.co/AMl9vu5qzm

— BWI Marshall Airport (@BWI_Airport) April 20, 2020
The negotiations for the project began on March 28, when Hogan asked the First Lady to join him on a call with South Korean Ambassador to the United States Lee Soo Hyuck. Hogan says the negotiations were kept quiet and those with knowledge of the project referred to it by the name "Operation Enduring Friendship." After the initial call came 22 days of vetting the test kits and making negotiations.
Hogan thanked everyone involved in securing the test kits, especially South Korea President Moon Jae-in.
"I want to sincerely thank our Korean partners for assisting us in our fight against this common, hidden enemy," Hogan said.
South Korea is one of the countries around the world that has successfully flattened its curve of coronavirus cases.
The most critical building block of our recovery plan for Maryland is the ability to do widespread testing. The incredible success of this operation has not only put us on track to achieve that goal, but it will literally help save the lives of thousands of Marylanders.

— Governor Larry Hogan (@GovLarryHogan) April 20, 2020
The testing kits cost the state $9 million, but Hogan said the price is worth it, especially since increasing testing capacity is one of the four steps needed for Maryland's economy to reopen. Hogan said later in the week he will provide further information about "Maryland Strong: Roadmap to Recovery."
Maryland has completed more than 71,000 coronavirus tests to date. The state received another 40,000 test kits last week and has invested $2.5 million so that University of Maryland Baltimore Lab can handle 20,000 tests per day.
"As Maryland begins its reopening and recovery, Marylanders should feel confident in knowing that we have done everything in our power, gone to every length, and used every tool and every resource at our disposal to defeat this deadly virus," Hogan said.
Related Post:
Maryland Receives 500,000 Coronavirus Tests from South Korea
Maryland Receives 500,000 Coronavirus Tests from South Korea