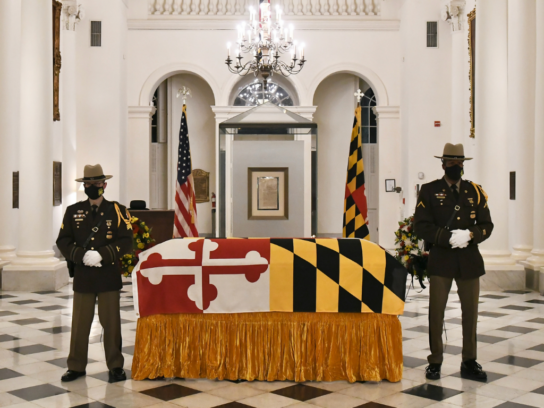 Maryland officials will pay their respects to Senate President Emeritus Mike Miller, the nation's longest serving state Senate president, as he lies in state Friday in the State House.
Miller died Jan. 15 from cancer at age 78.
Elected to the House of Delegates in 1970, Miller moved to the Senate in 1975 to represent parts of Prince George's County and Southern Maryland. He served as president from 1987 to 2020.
Gov. Larry Hogan, who called Miller "a dear lifelong friend" after his passing, invited Marylanders to virtually honor the late leader when his casket arrived in Annapolis on Thursday night.
Only invited guests can pay their respects in person due to COVID-19 restrictions, but a website has been set up with a livestream of the visitation and a digital guestbook.
Members of Maryland's U.S. Congressional delegation — Sens. Ben Cardin and Chris Van Hollen, as well as House Majority Leader Steny Hoyer and Reps. David Trone and Anthony Brown — visited the capital Friday morning to honor Miller.
A tribute during a state Senate session is planned for Friday afternoon.
Tonight, my dear friend Mike Miller returned to the State House he loved.

We welcome Marylanders to pay their respects virtually: https://t.co/dyvfu1jc8S pic.twitter.com/kL2yGUgaSw

— Governor Larry Hogan (@GovLarryHogan) January 22, 2021
This morning I joined @SenatorCardin, @LeaderHoyer, @ChrisVanHollen, and @RepAnthonyBrown in Annapolis to honor Senator Mike Miller as he lie in state. Maryland is a better place because of Mike Miller. May he Rest In Peace. pic.twitter.com/MAjGNLpr9h

— Rep. David Trone (@RepDavidTrone) January 22, 2021