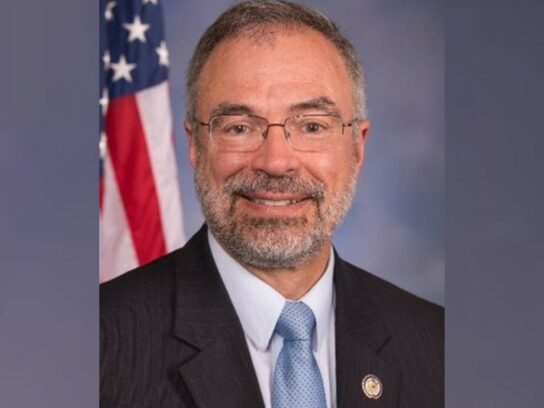 Rep. Andy Harris, (R-MD) was prevented from bringing a gun onto the U.S. House of Representatives Jan. 21, according to a Huffington Post reporter who said he witnessed the event.
The detectors were installed near the House chamber after the Jan. 6 attack on the U.S. Capitol.
"HuffPost witnessed the interaction and later confirmed with a Capitol official that Harris was carrying a gun," reporter Matt Fuller wrote.
A spokesman from Harris' office told MyMCM Friday morning that Harris stands by a statement made on Fox 45 Thursday night.
That statement notes, "Because his and his family's lives have been threatened by someone who has been released awaiting trial, for security reasons, the Congressman never confirms whether he nor anyone else he's with are carrying a firearm for self-defense. As a matter of public record, he has a Maryland Handgun Permit. And the congressman always complies with the House metal detectors and wanding. The Congressman has never carried a firearm on the House floor."
According to the reporter, an officer using a metal detector wand scanned the Congressman and detected a firearm, which had been concealed by his suit. The reporter said he then watched as Harris tried to get another member of Congress to take his gun.
Harris, who represents the Eastern Shore, then left the area, returning 10 minutes later and passed through security, the reporter said.
More infamy brought to Maryland: @RepAndyHarrisMD tried to bring a firearm to the US House floor! All this after threatening a fight in Congress & after trying to block recognition of Biden's votes. #MarylandCoupArchive #MDpolitics https://t.co/rBVVGL7xRn

— David Moon (@DavidMoon2014) January 22, 2021
Definitely execrable. Maybe even ignominious!

— Del. Lesley Lopez (@LesleyJLopez) January 22, 2021
Andy Harris is crazier than a dog in a hubcap factory. Sorry again, America.

Also: resign @RepAndyHarrisMD. https://t.co/SOCSDz1sNx

— Delegate Eric Luedtke (@EricLuedtke) January 22, 2021
This has now been confirmed by a Capitol official: Rep. Andy Harris (R-Md.) tried to bring a gun onto the House floor today.

(I also witnessed the whole thing and saw him try to give his gun to another member.)https://t.co/54ds56Of23

— Matt Fuller (@MEPFuller) January 22, 2021