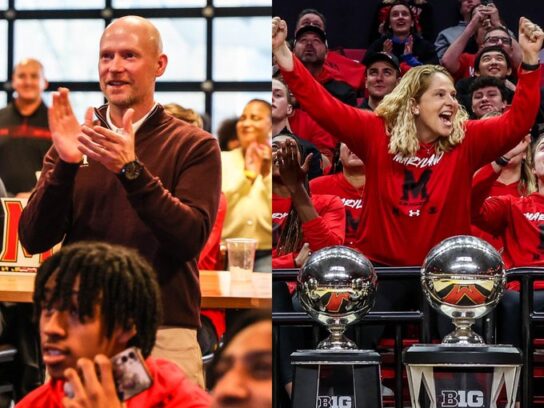 College basketball's premier event, the NCAA Basketball Tournament, more commonly known as March Madness, is almost ready to tip off.
Eight teams from the region, four men's and four women's, found out who, when and where they are playing during NCAA Tournament Selection Show on Sunday:
The Maryland women (25-6) are a 2 seed and play no. 15 Holy Cross (24-8) at the Xfinity Center in College Park on Friday Mar. 17 at approximately 2:30 p.m. If the Terps win, they'll play the Arizona/West Virginia winner on Sunday also at Xfinity Center.
Maryland's men's team (21-12) received an 8 seed will face no. 9 West Virginia (19-14) Thursday Mar. 16 at 12:15 p.m. in Birmingham, Al. If the Terps win, they will probably face number one seed Alabama on Saturday.
Women's tournament
Virginia Tech (27-4), the only area team to get a no. 1 seed,, will play no. 16 Chattanooga (20-12) Friday Mar. 17 at 5:30 p.m. on their home court in Blacksburg, Va.
James Madison (26-7) is seeded at no. 14 and will face no. 3 Ohio State (25-7) Saturday Mar. 18 at 1:30 p.m. in Columbus, Oh.
16 seed Norfolk State (26-6) will take on the overall top seed South Carolina (32-0) at approximately 2:00 p.m. Friday Mar. 17 in Columbia, SC.
Men's tournament
No. 4 Virginia (25-7) will face  13 seed Furman (27-7) Thursday Mar. 16 at 12:40 p.m. in Orlando, Fl.
No. 12 Virginia Commonwealth University (27-7) will take (5) Saint Mary's (26-7) on Friday Mar. 17 at 2:00 p.m. in Albany, NY.
Howard University (22-12), who qualified for the first time since 1992, landed a no. 16 seed and will play one-seed Kansas (27-7) Thursday Mar. 16 at 2:00 p.m. in Des Moines, Ia.
Some Montgomery County players to watch out for during the tournament: Maryland's Abby Meyers (Whitman), Bethesda native and UCLA freshman Kiki Rice (Sidwell Friends) and UConn's Jordan Hawkins (Gaithersburg High School then DeMatha).