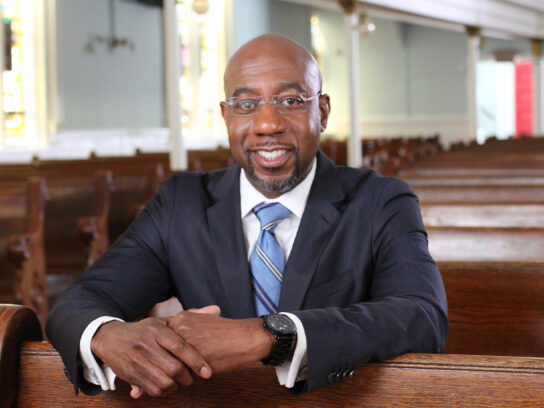 Rev. Raphael Warnock, who defeated incumbent U.S. Senator Kelly Loeffler Tuesday in the Georgia senate runoff election and will become the first Black senator from Georgia once the results are certified, received high praise and congratulations in many tweets from Montgomery County and Maryland politicians.
During an interview on CBS News after he was proclaimed the projected winner, Warnock said, "And because this is America, the 82-year-old hands who used to pick someone else's cotton went to the polls and picked her youngest son to be a United States senator."
Senator-elect Warnock, has been the senior pastor at Ebenezer Baptist Church in Atlanta since 2005. This is the same church where Rev. Martin Luther King Jr. served as co-pastor when his father was the pastor. His funeral was held at the church, according to the church's website.
Warnock is the 11th of 12 children.
The pastor of Ebenezer Baptist Church @ReverendWarnock, where Dr. Martin Luther King, Jr. served as pastor is on the precipice of winning a United States Senate seat in the state of #Georgia. Let that sink in, then thank Black voters, thank #JohnLewis, thank @staceyabrams. 🗳🇺🇸

— Will Jawando (@willjawando) January 6, 2021
A senator-elect and his dog pic.twitter.com/SQ86k5bq9B

— Evan Glass (@EvanMGlass) January 6, 2021
Georgia has come through again! Not once, not twice, but three times. 👏🏿 #theysaidwhatheysaid

— Jheanelle Wilkins (@JheanelleW) January 6, 2021
"The mystic chords of memory… will yet swell the chorus of the Union, when again touched, as surely they will be, by the better angels of our nature." @ReverendWarnock, the pastor of MLK's Ebenezer Baptist Church, is headed to the US Senate! @staceyabrams @repjohnlewis

— Senator Will Smith (District 20) (@Willcsmithjr) January 6, 2021
Senator-elect @ReverendWarnock! A beautiful & historic day!

— Lorig Charkoudian (@LCharkoudian) January 6, 2021
Congrats Senator-Elect Raphael Warnock! https://t.co/2QOd72pqW3

— Craig Zucker (@SenatorZucker) January 6, 2021
Joy comes in the morning. Thank you, Georgia. pic.twitter.com/Dw8wPWAMeI

— Reverend Raphael Warnock (@ReverendWarnock) January 6, 2021