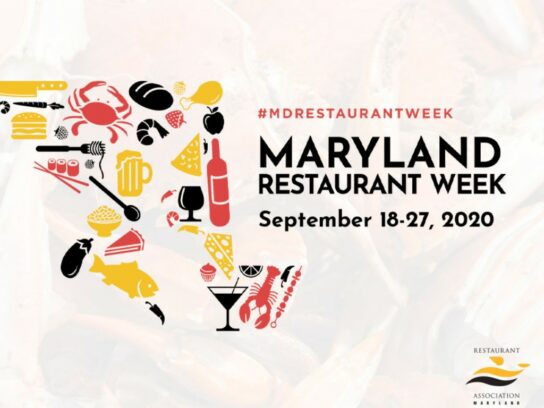 Starting Friday, The Restaurant Association of Maryland (RAM) kicks off its first-ever Maryland Restaurant Week.
It's finally here! #mdrestaurantweek begins TODAY! Restaurants across the state will be serving up special menus, deals, and featured specials for breakfast, lunch and dinner. Find a restaurant participating near you: https://t.co/uw7hpCJWY3. 🍴 pic.twitter.com/c7doS4fIAJ

— Restaurant Association of MD (@RestaurantsinMD) September 18, 2020
This week-long effort is in support of the restaurant industry, which has been struggling due to the COVID-19 pandemic. In an interview with MyMCMedia, Marshall Weston, President and CEO of the RAM said that localized restaurant weeks are normally held during the summer or late winter. But with temperatures slowly dipping, Weston said "outdoor dining is not going to be a viable option for seating much longer," further adding to financial stress within the industry and ultimately, "restaurants are going to be laying off more employees."
Hundreds of restaurants are participating, and in Montgomery County, places like Silver Diner, BIBIBOP Asian Grill, and Ledo Pizza are offering deals all week long.
Silver Diner is offering up both dine-in and carryout deals, including:
Blueplates specials starting at $8.99, available weekdays until 4 p.m. for Dine In Only.
Family Style Meals are also available for Carry Out or Delivery.
In an effort to ensure safety for all dine-in customers, Silver Diner recently installed a new three-level air purification system, which uses ultraviolet light to treat all air that travels through the air conditioning system. Silver Diner also performs daily wellness checks for all employees, wipes down all surfaces with antimicrobial sanitation solution, and requires all guests and employees to wear masks.
But the deals don't stop there. At BIBIBOP Asian Grill, customers can buy any bowl with a fountain drink for $12 plus tax.
Ledo Pizza is also offering up their Ledo Pizza Football Deal, a touchdown at just $29.99 plus tax. This deal, which is valid at multiple locations across the county, includes an 18 inch 1-topping pizza, Italian salad, and six jumbo wings.
Unlike traditional restaurant weeks, there are no fixed menus or prices. In addition, many other types of restaurants are participating, from local bakeries and diners to larger dine in restaurants, making this a unique event. "We really wanted to be able to include all segments of the restaurant industry," Weston said.
In May, the RAM had estimated that nearly 25% of restaurants would permanently close in the state. But as the pandemic carried on, Weston said they had to adjust their estimation. "Now, we are projecting that the number could be as high as 40% by the end of this year," leading to a potential loss of over 4,000 restaurants.
This also comes as many restaurants have burned through their financial reserves, ranging from grants provided through government-funded programs to general savings. So, Weston said the "[RAM] felt it necessary to do something for restaurants to hopefully give them a big jolt of business over the next 10 days or so."
In coordination with the Restaurant Association of Maryland, we're bringing together all counties & all restaurants for a week-long celebration in support of Maryland's restaurant industry on 9/18-27. Learn more about #MDRestaurantWeek: https://t.co/m5TIKlbFwM @RestaurantsinMD pic.twitter.com/fjJQTCnbGI

— Maryland (@TravelMD) September 16, 2020
When asked whether there are plans to have more statewide restaurant weeks in the future, Weston said they will take feedback from restaurants and look at financial constraints in the future, which may burden locally organized restaurant weeks. "We do know that the dining public loves these restaurant weeks and a reason to go out, try new restaurants, and have specials, so we'll solicit feedback from restaurants and as a whole, take a look at what we are doing and decide if we want to do it again at some other time."
To find other participating restaurants across the state, be sure to visit the Maryland Restaurant Week website. This event ends Sunday, September 27.