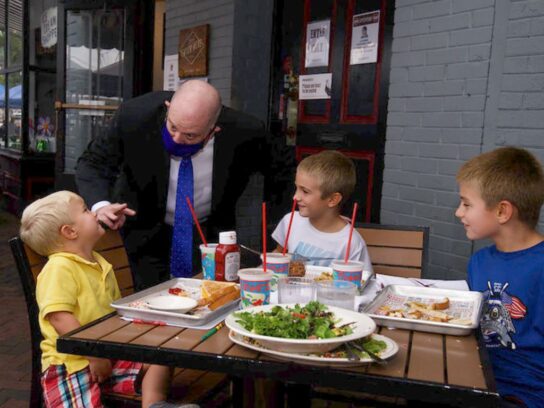 The same day Gov. Larry Hogan proclaimed the start of Maryland's first-ever Restaurant Week, he announced restaurants can increase indoor capacity from 50% to 75%. 
Restaurants are allowed to make the change beginning Monday at 5 p.m., said a statement from the governor's office Friday. Of course, they must follow health guidelines like physical distancing. 
"To celebrate the first-ever Maryland Restaurant Week, I encourage Marylanders to support their favorite local businesses, whether you do so through delivery, curbside pickup, or by dining indoors or outside," Hogan said. Beginning this year Sept.18-27 is Maryland Restaurant Week.
Most counties in Maryland entered Phase 3 of reopening on Sept. 4. Montgomery, Prince George's and Anne Arundel counties and Baltimore City remain in Phase 2. 
Under Phase 2 in Montgomery County, restaurants can operate at 50% capacity and will be allowed to increase that to 75% once Phase 3 starts. However, during a media briefing Wednesday Montgomery County Executive Marc Elrich and County Health Officer Dr. Travis Gayles said the jurisdiction is not ready to move into Phase 3.
During a county council meeting Tuesday Gayles said daily new cases are slowly increasing in September, after dropping in late June and July and picking up in late July and August. The county's COVID-19 dashboard shows cases dropping toward the middle/end of August before gradually rising again. Currently the 3-day new case average is 88 and the lowest number of new cases reported this month was Sept. 8 with 48 cases followed by 68 on Friday and 78 on Sept. 6 and 13. The lowest number reported for all of August and September so far was 47 cases on Aug. 26. Gayles said a moderate rate of transmission would be 30-35 per day.
THREAD: As our state celebrates the first-ever #MDRestaurantWeek, I am pleased to announce that, effective Monday, September 21 at 5 PM, capacity for indoor operations at restaurants may increase from 50 to 75%, with strict distancing and public health measures in place. pic.twitter.com/i2wPb7ByJk

— Governor Larry Hogan (@GovLarryHogan) September 18, 2020
Previous post:
Maryland Restaurant Week Kicks Off Friday: 'They Still Need Our Support'