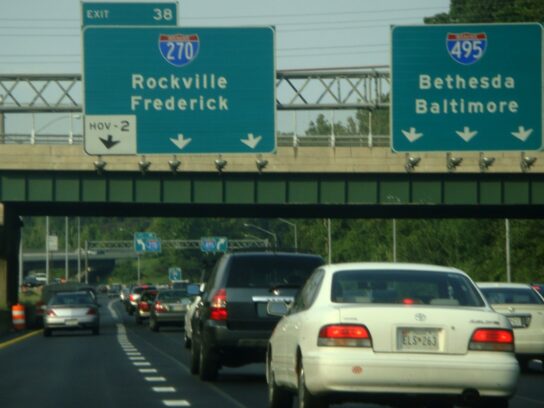 Maryland Department of Transportation announced today that plans to widen the Beltway will end at the 270-495 spur and will not continue east through Chevy Chase and Silver Spring.
"After several months of continuous collaboration and listening to agency partners, public officials and stakeholders," the Federal Highway Administration (FHWA) and the Maryland Department of Transportation State Highway Administration (MDOT SHA) announced Wednesday that they will scale back the plans and go with what is now called Alternative Nine.
The plans call for building a new American Legion Bridge and two high occupancy toll lanes in each direction from the George Washington Memorial Parkway in Virginia to east Maryland 187 on 495. On 270, from 495 north of 370 and on the one 270 eastern spur from 187 to 270 , there will be high occupancy toll lane added in each direction.
No work is planned on 495 East of the 270 spur. However, the DOT statement notes that this "does not suggest that improvements will not be needed on the top side and east side of I-495." Any plans there would be considered at a later date.
The previous plans included adding toll lanes across the American Legion Bridge north along I-495 to I-270 and I-370. There would have been four managed lanes, two in each direction.
Several county and state politicians took to Twitter to praise the change in plans.
Council President Tom Hucker called it "good news" that the plans were scaled back. He tweeted that the original plans were "deeply flawed, opposed by our local government and bipartisan Planning Commission."
He also tweeted, "We are not finished and we need MDOT to propose a workable 21st-century solution to move people, not just cars. And to do it via a transparent accountable process, with public oversight and worker protections, not an unaccountable P3." A P3 arrangement stands for Public Private Partnership.
Maryland Delegate Marc Koran tweeted, "This is a huge acknowledgment by the Hogan Admin that their 2 new lanes in each direction the whole way was always over promised and over hyped. This change does not address every problem with the project but this refocusing is a welcome shift."
In a news release, the Maryland Transit Opportunities Commission called the change a "retreat," noting that the state's decision "shows the power of public protest." Chairman Ben Ross added, "Concerned citizens who have the facts behind them can still defeat the money and political pull of a wealthy corporation."
However, according to Ross, "this new scheme makes even less sense than what came before it. Three more lanes of traffic will get dumped into the already-backed-up merge where I-270 joins the Beltway at Wisconsin Avenue. The delays will be catastrophic."
He further stated, "This will drain jobs out of the Maryland economy." Ross added, "CEOs who live in Potomac will have an easy drive to Tysons and face monster traffic jams to get to Silver Spring or Prince George's County. They will move their businesses to Virginia and the employees will suffer the consequences."
In late summer, the state expects to issue a supplemental draft environmental impact statement for the new alternative.
MTOC vice-chair Samuel Jordan, who leads the Baltimore Transit Equity Coalition, stated, "This latest retreat by MDOT from their original poorly conceived plan is another important step toward the cancellation of the entire misbegotten project."
Good breaking news about the MDOT plan to supersize the Beltway. They are now recommending No Action east of the Spur!
Huge thanks to the tens of thousands of Marylanders who signed our petition and the 1500+ who turned out for our town halls! threadhttps://t.co/fPkVBEIZLr

— Tom Hucker (he/him) (@tomhucker) May 12, 2021
I'm pleased that @MDOTNews has officially stopped their plans to widen the Beltway east of I-270 through Chevy Chase and Silver Spring. This corridor would have seen the largest impacts from the proposed project, including the loss of parkland and the taking of private property.

— Evan Glass (@EvanMGlass) May 12, 2021
Hogan is scaling back the I-495 Beltway & I-270 widening. New plan "focuses solely on building a new American Legion Bridge & delivering two high occupancy toll (HOT) managed lanes in each direction" on I-270 to I-370 with "no action on I-495 east of the I-270 eastern spur." pic.twitter.com/khgcwaTEJM

— David Moon (@DavidMoon2014) May 12, 2021
MDOT retreat on toll lanes shows power of public protest.
But latest scheme promises catastrophic traffic backups where I-495 & I-270 merge at Wisconsin Ave https://t.co/WPkjs6l141 pic.twitter.com/Nb4hMwWMdP

— MTOC (@TransitforMD) May 12, 2021