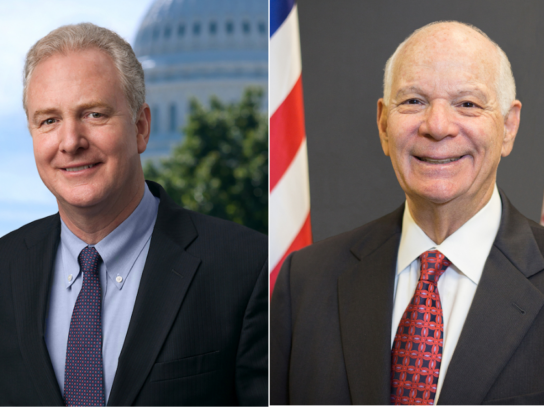 As the violence in Israel and Gaza continues, Maryland's federal representatives have issued statements and taken to Twitter to call for a ceasefire.
U.S. Sen. Ben Cardin issued a joint statement with fellow U.S. Senators Bob Menendez of New Jersey and Ron Wyden of Oregon condemning attacks on civilians and called for efforts to create a lasting peace in the region.
"Ongoing rocket attacks from Hamas and Palestinian Islamic Jihad are terrorism and no country should have to tolerate this kind of threat against its population. Israel has every right to self-defense and we mourn all the innocent Israeli and Palestinian civilians who have lost their lives," the three Democrats wrote.
"We are committed to sustaining a U.S.-Israel relationship based on shared democratic values and our vital security partnership. We are also committed to continuing to engage Israelis and Palestinians to find ways to live together with peace, freedom, security and dignity; and achieve a two-state solution, as the Biden administration has set out to do following decades of consistent US policy. A sustainable peace that ensures the long-term security of Israel and self-determination for Palestinians is the only viable outcome for the region.
U.S. Sen. Chris Van Hollen also issued a statement on May 12. "I am deeply concerned about the violence that has engulfed the Israeli and Palestinian people in recent days and the tragic loss of innocent life. This week, escalating tensions in Jerusalem erupted into a full-scale conflict," he wrote, adding that he endorsed U.S. Sec. of State Antony Blinken's "call for the immediate de-escalation of hostilities between Israel and Hamas to protect the lives of innocent civilians."
Van Hollen's statement continued, "Israel is fully within its rights to take measures to defend itself against the rocket assault launched by Hamas terrorists," adding, "Hamas's actions only serve to undermine the pursuit of the legitimate aspirations of the Palestinian people. Both Israelis and Palestinians have a right to live in security, a right to self-determination, and a right to have their human rights protected."
U.S. Rep. Jamie Raskin called for "an immediate ceasefire to save human life and prospects for peace" on his Twitter page. "Hamas must stop its indiscriminate rocket attacks on the people of Israel now. Like all sovereign states, Israel has a right to defend itself and is bound by international law and humanitarian law to actively protect civilians from harm in doing so." Maryland's 8th District representative also tweeted, "All sides must deescalate this nightmarish violence to prevent all-out war and escalating grief and misery."
The outbreak of brutal violence in Israel and Gaza has killed dozens of Israeli and Palestinian civilians, including at least 16 children, and wounded hundreds more. That fact compels an immediate ceasefire to save human life and prospects for peace.

— Rep. Jamie Raskin (@RepRaskin) May 12, 2021
All sides must deescalate this nightmarish violence to prevent all-out war and escalating grief and misery.

— Rep. Jamie Raskin (@RepRaskin) May 12, 2021
U.S. Rep. David Trone, who represents Maryland's 6th District, tweeted, "Violence is never the solution. I have a constituent listening to the Iron Dome sirens as we speak as rockets from Gaza rain down on Israel. Everyone must clearly condemn these attacks and support the right of self-defense."
He tweeted on May 11, "Meanwhile, I remain concerned about the situation in Jerusalem. Especially during a week that hold significance to both Israelis and Palestinians, we must ensure all faiths are respected. Lastly, peaceful negotiations should resume with the support of the United States and the international community. Creating the conditions for peace will be difficult but all parties should remain focused on this goal."
Violence is never the solution. I have a constituent listening to the Iron Dome sirens as we speak as rockets from Gaza rain down on Israel. Everyone must clearly condemn these attacks and support the right of self-defense.

— Rep. David Trone (@RepDavidTrone) May 11, 2021
Lastly, peaceful negotiations should resume with the support of the United States and the international community. Creating the conditions for peace will be difficult but all parties should remain focused on this goal.

— Rep. David Trone (@RepDavidTrone) May 11, 2021