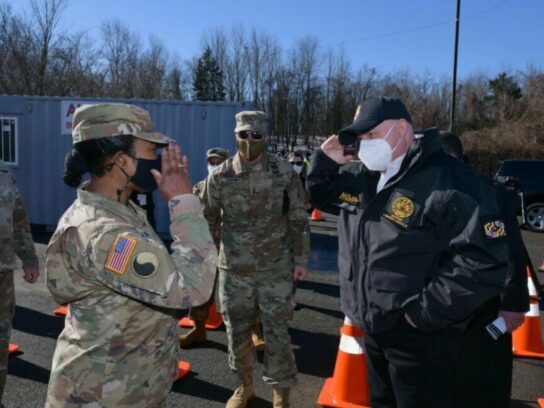 The state of Maryland recently opened its first two mass vaccination sites on Friday. The sites are located at the Six Flags America in Prince George's County and at the Baltimore Convention Center Field Hospital (BCCFH) in Baltimore City.
"[Friday marked] the beginning of mass vaccination in the state of Maryland, and another critical step forward in the plan that has taken us from 2,500 shots a day to 25,000 shots a day in a matter of weeks," said Governor Hogan in a news release on Thursday. He later attended a soft launch of the Bowie vaccination site on Friday with Prince George's County Executive Angela Alsobrooks. Hogan mentioned the limited supply of vaccines granted to the state and says he will continue to put pressure on the federal government.
"And then we're immediately going to 2,000 a day, and then as soon as the supplies pick up, which we've been promised by the federal government that they will, we're going to be able to do 6,000 a day," Hogan added after mentioning the 250 appointments that took place on Friday.
The vaccination site in Bowie was created through a partnership between the Maryland Department of Health, the Maryland National Guard, and Kaiser Permanente. Only those who were pre-registered through an initial outreach program can be vaccinated. Once this list is completed, additional appointments through Monday will be made available to all eligible Maryland residents.
Patients must schedule an appointment to be vaccinated and second dosage appointments will be scheduled automatically. They will not be charged and no insurance information will be collected.
Prior to this, the site was a mass COVID-19 testing site that first opened in May. Tests were provided at no cost and no doctor's order or appointment were required.
The vaccination site in Baltimore is partnered with the University of Maryland Medical System (UMMS) and Johns Hopkins Medicine (JHM). Eligible Maryland residents can register for an appointment at the BCCFH vaccination site online here.
Additional mass vaccination sites will continue to open around the state. The M&T Bank Stadium mass vaccination site will open in mid-February. Locations of future vaccination sites in Western Maryland, Southern Maryland, and the Eastern Shore are being finalized.
As of Feb. 8, Maryland providers have administered 699,733 COVID-19 vaccines, including 545,093 people receiving first doses and 154,640 receiving their second dose, according to the state's vaccination tracking page.