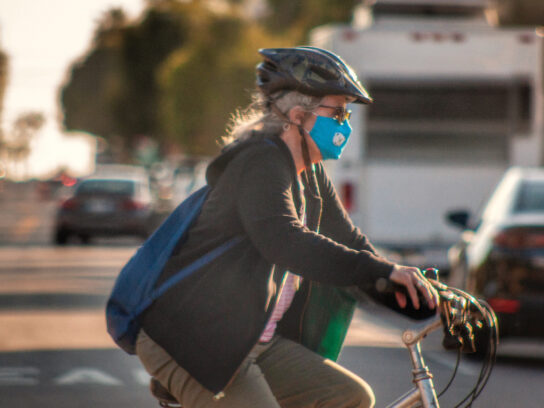 The annual Bike to Work Day (BTWD) in the D.C. region takes place Friday, May 21. Commuter Connections and the Washington Area Bicyclist Association host the event each year during May which is celebrated as Bike to Work Month.
Bikers may register at www.biketoworkmetrodc.org. All registrants will be entered in a regional bicycle raffle, and the first 16,000 to register will receive a free T-shirt to be picked up at one of the pit stops.
More than 100 pit stops will be set up all over the region – 20 in Montgomery County. Here is a map of pit stops.
This year's BTWD will feature non-traditional pit stops due to the COVID-19 protocols. Telecommuters can bike to pick up their free t-shirts at a pit stop. People biking to work can continue to their place of business and telecommuters are encouraged to bike a "fake commute" or take a break during their workday.
Riders are asked to practice safe social distancing and to wear a face covering and helmet while riding.
The 20 pit stops in the county are:
Bethesda
Griffin Cycle at 4935 Bethesda Avenue
Open from 8 to 9:30 a.m. and 3 to 7 p.m.
Naval Support Activity near the helipad, adjacent to Gate 2 at 8091 Rocvkille Pike
Open from 6 to 9 a.m.
Terrapin Cycles at 7920 Norfolk Avenue
Open from 7 a.m. to 7 p.m.
Chevy Chase
Chevy Chase Athletic Club at 5454 Wisconsin Avenue
Open from 8 a.m. to 6 p.m.
Damascus
All American Bicycle Center at 26039 Ridge Road
Open from 3 to 6 p.m.
Gaithersburg
Andes Bike Shop at 12119 Darnestown Road
Open from 3 to 7 p.m.
Bike Center Bike Shop at 15930 Luanne Drive
open from 11 a.m. to 5 p.m.
Kentlands at corner of northbound Great Seneca Highway and Orchard Ridge Drive
Open from 7 to 9 a.m.
Old Towne Plaza at 1 S. Summit Avenue
Open from 4 to 6 p.m.
Germantown
Germantown Cycles Bike Shop at 12619-L Wisteria Drive
Open from 3 to 7 p.m.
Germantown Walmart Mobile Commuter Store at 20910 Frederick Road
Open from 11 a.m. to 1 p.m.
Laytonsville
Just Riding Along Bicycle Shop at 6828 Olney-Laytonsville Road
Open from 3 to 5 p.m.
North Bethesda
REI Bike Shop at 910 Rose Avenue
Open from 7:30 to 9:30 a.m. and 5 to 7 p.m.
Rockville
TREK Bicycle at 5750 Fisher Lane Suite A
Open from 8 to 11 a.m. and 6 to 7 p.m.
Silver Spring
Briggs Chaney Park & Ride Lot at 3300 Briggs Chaney Road
Open from 6 to 10 a.m.
Silver Cycles at 8307 Dixon Avenue
Open from 3 to 6 p.m.
MCDOT Commuter Services TRIPS Store on the second level of the Silver Spring Transit Center
Open from 6 to 9:30 a.m. and 3 to 6 p.m.
Takoma Park
Takoma Bicycle at 7030 Carroll Avenue
Open from 3 to 4 p.m.
Takoma Park Downtown at Takoma Urban Park 7035 Carroll Avenue
Open from 6 to 9 a.m.
Takoma Park Sligo Creek Trail at Sligo Creek Trail & New Hampshire Avenue crossing (east side)
Open from 7 to 9:30 a.m.