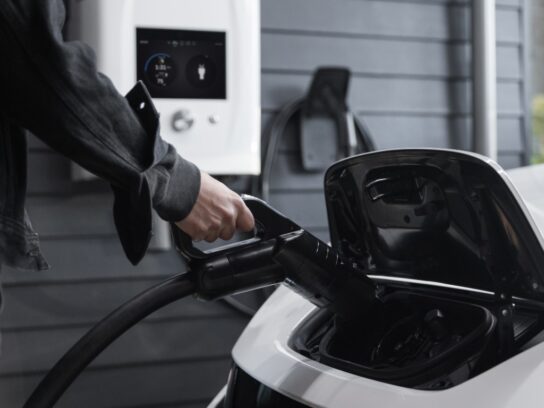 The Montgomery County Department of Transportation (MCDOT) has installed 16 electric vehicle charging ports in public garages over the last four months.
Eight charging ports were installed in the NOAA Garage in Silver Spring. Additionally, four charging ports were installed in the Cordell-St. Elmo Garage in Bethesda and four in Wheaton Market Place Garage in Wheaton.
MCDOT plans to install eight more charging ports, with four being installed in the Bethesda-Elm Garage later this winter.
According to MCDOT, in 2022 Montgomery County reported 19,338 plug-in vehicles registered. Nearly one-third of all-electric and plug-in hybrid cars in Maryland are located in Montgomery County.
Ever since the first public electric charging port in Bethesda in February 2015, the County has installed 56 ports for public use in County parking garages and parking lots
According to MCDOT Director Chris Conklin, installing charging ports in public garages is an important step towards the County's zero emissions by 2035 goal.
"We are making progress, but we still have work to do to ensure [electric vehicle] charging is accessible," Conklin said in a press release. "Transportation is the largest producer of greenhouse gas emissions in the County and personal vehicles make up the majority of these emissions. We are working to increase personal vehicle charging capacity to encourage [electric vehicle] ownership."
Electric vehicle charging points are available in the following County parking facilities.
Bethesda: Woodmont Corner Garage, Capital Crescent Garage, Woodmont-Rugby Garage, Auburn-Del Ray Garage, Cordell-St.Elmo Garage, Waverly Garage and Bethesda-Elm Garage.
Silver Spring: Bonifant-Dixon Garage, Cameron-Second Garage, Kennett Street Garage, NOAA Garage, Wayne Avenue Garage, Town Square Garage, Bonifant and Easley Lot.
Wheaton: Wheaton Market Place Garage and Amherst Garage.
For a list of Montgomery County's electric vehicle charging stations in public parking garages and lots, visit the MCDOT website. Additionally, MCDOT released additional guidelines in 2020 for installing residential electric vehicle charging stations.