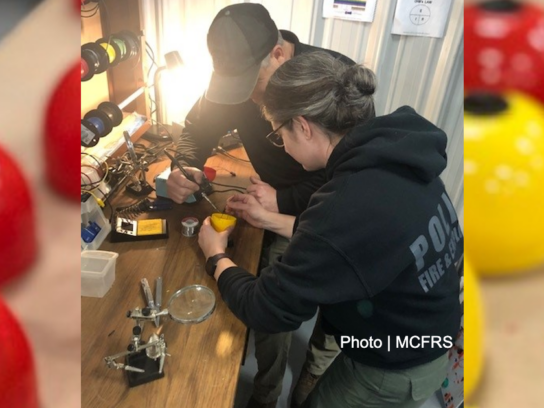 Members of the Montgomery County Fire and Rescue Service (MCFRS) Bomb Squad participate in a national program to design beeping easter eggs for visually impaired and blind children. 
"The Montgomery County Bomb Squad is honored to partner with the Colombia Lighthouse for the Blind. This charitable project was initiated and led by Montgomery County Bomb Technician, Lieutenant Phil Baker who was inspired to created beeping Easter eggs after reading about the nationwide event founded by the International Association of Bomb Technicians and Investigators (IABTI)," MCFRS Captain Andrew Gettig and Acting Bomb Squad Commander said. 
IABTI member David Hyche started the project in Alabama in 2005 as a way for his blind daughter Rachel to participate in an Easter egg hunt. While doing research, Hyche found information from the Blind Children's Center in Los Angeles, California about plastic eggs that beeped. The center provided Hyche with valuable information on how to construct the eggs. 
The audible eggs consist of a switch, a piezo beeper, a 9-volt battery, a battery clip, and a large plastic egg, according to the IABTI. Initially, Hyche asked for help from his bomb technician friends and his Bureau of Alcohol, Tobacco Firearms and Explosives (AFT) co-workers. 
"The bomb technicians and ATF certified explosives specialists are trained to work with electronic circuitry, which made them a natural fit for constructing beeping eggs," IABTI said. 
Over the years, the Rachel Project has gained popularity. Bomb squads across the country create beeping Easter eggs annually. Captain Gettig said the Montgomery County Bomb Squad will deliver more than 100 eggs to the visually impaired and blind community and the Colombia Lighthouse for the Blind.