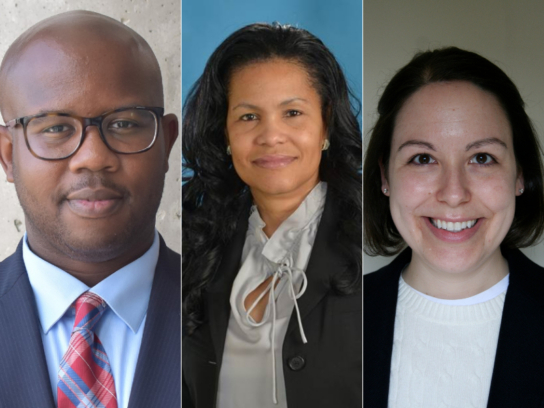 The March Small Business Network session is canceled. Access to the Montgomery Community Media studios is restricted due to the coronavirus pandemic.
Montgomery Community Media's March Small Business Network (SBN) session features a panel of business leaders discussing how to market to corporate clients. The panel discussion takes place March 17 from 9 to 9:30 a.m. This is a live stream only event.
Watch the panel discussion streamed live here:
https://youtu.be/JQN_nl3wrRI
The series of monthly morning sessions facilitated by Kelly Leonard address topics of interest to small business owners in Montgomery County.
March topic:  "Marketing to Corporate America."
The panel will share:
Things to understand when presenting your business to corporate clients
Networking best practices
Tips to make a great first impression
The panel includes:
Victor Davis, Sr. Strategic Sourcing Specialist – Washington Gas
Victor Davis serves as Washington Gas' new Senior Specialist for Supplier Diversity on the Corporate Social Responsibility team in Strategy & Public Affairs. In this position, Victor manages and develops market strategies and provide technical support and industry knowledge to continue the successful growth of our supplier diversity program.
Davis brings a broad range of experience along with several certifications to this position in both the procurement and supplier diversity areas. Prior to joining WGL, he served as the strategic sourcing specialist for Sedgwick Claims Management in Ohio where he developed and promoted strong procurement policies and practices to support disadvantaged suppliers.
Tracey Edwards, Supplier Diversity Program Manager – WSSC Water
Tracey Edwards is the Supplier Diversity Program Manager of  WSSC Water's Office of Supplier Diversity & Inclusion. As a seasoned professional with extensive experience in two major utility industries – water and wastewater; and energy, Tracey has been a trailblazer for change. Through supplier advocacy and outreach and development, Tracey has been credited with ensuring equal opportunities for minority-owned, women-owned and small and local firms in WSSC Water's contracting process.  As an innovative leader, she has held positions in both the private and public sectors with over 10 years in the Supplier Diversity industry and 15 plus in the utility industry.
Tracey has a Certified Professional in Supplier Diversity (CPSD) certificate from the Institute for Supply Management and Master Compliance Administrator Certification from the American Contract Compliance Association.  Tracey is a member of the Institute for Supply Management  and is a board member for the Capitol Region Minority Supplier Diversity Council where she serves as the Executive Secretary.
Julia Hodge, Vice President of Supply Chain Management – Metropolitan Washington Airports Authority
Julia Hodge is Vice President for Supply Chain Management at the Metropolitan Washington Airports Authority, with responsibility for procurement and supplier diversity.  Hodge joined the Airports Authority in 2009 after ten years with PricewaterhouseCoopers. She is a Certified Public Accountant and a graduate of Boston College and Georgetown University.
About Montgomery Community Media's Small Business Network Series
The series of monthly morning sessions address topics of interest to small business owners in Montgomery County.
Moreover, the series offers the opportunity to invigorate and innovate businesses with insight and information from regional business leaders' presentations and question and answer sessions. Indeed, seminars and networking can enhance the success of local businesses in Montgomery County.
Montgomery Community Media is located at 7548 Standish Place in Rockville, walking distance from the Shady Grove Metro station. Free parking is available.
You can view previous speakers and events, here.
SBN is Brought To You By