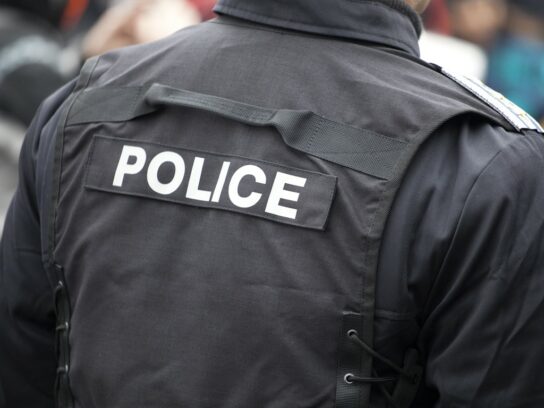 The Montgomery County Police Department (MCPD) implemented a new policy on Thursday that requires officers to "stop or attempt to stop" other officers they witness using excessive physical force, according to MCPD Chief Marcus Jones. 
"This is a win for this county," Jones said.
"It gets the officers to understand what the community is demanding of us and how important that is."
Jones said that the duty for officers to intervene is more rooted in policy and not criminality, but each case is individually reviewed and depends on the severity of the force used and what the opportunity was for the officer to stop the behavior. Lack of intervention would be a policy infraction from an administrative standpoint, he said, with a range of possible penalties dependent on the circumstances of the incident and the officer's past record. 
Montgomery County Executive Marc Elrich was also at the virtual press conference announcing the policy. He said the police have been forced to act on matters that the government has neglected. 
"They [police] wind up dealing with the homeless, they wind up dealing with drugs, they wind up dealing with people with mental disabilities. All of these problems land on the police doorstep and the only tool they have is to arrest somebody and put them in jail, which in none of those cases solves any problem," Elrich said. 
He said the county needs to start providing appropriate social services instead of expecting the police to deal with those issues. 
"This is a tragic way for all of us to have to finally come to grips with the fact that the police have been saddled with a bunch of things that everybody else walked away from. And we now have to take those things back," Elrich said. 
Conversations around police brutality have grown since the killing of George Floyd on May 25. Floyd was a black man killed by Minneapolis Police Officer Derek Chauvin, after Chauvin held his knee on Floyd's neck for almost nine minutes. Floyd was accused of using a counterfeit $20 bill at a grocery store, which prompted the call to police. Witness footage of the incident has gone viral, sparking outrage among protestors who are demanding justice for Floyd and other black Americans who have been victims of racism and police brutality.