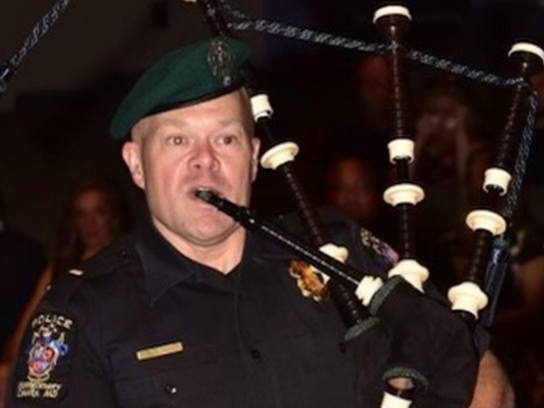 Montgomery County Police Chief Marcus Jones spoke Monday evening about the death of MCPD Lt. Daniel Friz.
Friz died shortly after midnight Monday in a collision with a 2018 Freightliner on I-70 in Lisbon. He was off duty at the time of his death. Maryland State Police continue investigating the incident.
Friz started working for MCPD in January 2003. While serving as an MCPD officer, Friz worked in the Gaithersburg and Silver Spring districts, the public information office, the training academy, and the special victim's investigation division.
Jones said he found it difficult to speak about Friz's death because he's known Friz for a long time, having worked with him at the police academy.
"He never looked for recognition or fanfare. He was happy to be behind the scenes and let you benefit from his hard work. If it was best for the team, Dan took care of it," Jones said.
 

View this post on Instagram

 
Friz climbed the ranks at MCPD. He was promoted to corporal and sergeant in 2012. He became a lieutenant in July 2018 for the Gaithersburg district and was then assigned to the police training academy.
"The Montgomery County Police Training Academy and this police department is better for the work Dan put in everyday and every night."
Friz was also known for playing the bagpipes at a variety of police ceremonies. "I know the next time I hear the bagpipes I'm going to be thinking of him," Jones said.
This afternoon, Chief Marcus Jones held a press conference where he talked about the life and service of MCP Lieutenant Daniel John Friz, who died in a fatal collision this morning in Howard County.

To watch the press conference, visit the link below. https://t.co/eNo8nxeEOZ

— Montgomery County Department of Police (@mcpnews) November 2, 2021
Friz is survived by his wife, who also serves as an MCPD officer and their three children. Jones said MCPD is treating Friz's death as an off-duty death, but the department will provide full support to his family.
"When we lose a brother or sister officer, it is something that our family comes together, we wrap our arms around each other because it is a member of our family that we have lost today," Jones said.
Montgomery County Leaders Offer Condolences to Friz
Several Montgomery County leaders and other police departments have offered condolences to Friz's family:
📰 Please read my statement on the loss of one of @MontgomeryCoMD's finest, @mcpnews Lt. Daniel Friz. pic.twitter.com/YsODwjOG8M

— County Exec Marc Elrich (@MontCoExec) November 1, 2021
Awful news this morning. We're sending our thoughts to Lieutenant Daniel Friz's family and the @mcpnews community. https://t.co/jr0s5TZ1UO

— Rep. David Trone (@RepDavidTrone) November 1, 2021
Heartbroken by the passing of Lieutenant Daniel Friz. For many years, Officer Friz gave his best to @MontgomeryCoMD, keeping our residents safe and secure. This is a tragic loss, and my sincere condolences go to his family, and the @mcpnews team.

— Nancy Navarro (@nancy_navarro) November 1, 2021
Our sympathies are with the family, friends, and colleagues of Lt. Daniel Friz who tragically passed away this past weekend.

I ask you all to keep the Friz family, and Daniel's colleagues at the MCPD, in your thoughts during this tragic time.https://t.co/GqCxpoKRJo

— Hans Riemer (@hansriemer) November 2, 2021
Deeply saddened to hear the unexpected passing of MCPD Lt. Daniel John Friz—an 18-year veteran of the County's police dept. His dedication to the safety of our residents will never be forgotten. Sending condolences to his loved ones & @mcpnews family during this difficult time.

— Councilmember Gabe Albornoz (@albornoz_gabe) November 1, 2021
Deeply saddened by the tragic death of Lt. Daniel Friz, an 18-year @mcpnews veteran and Deputy Director of the department's Training and Education Division.

Our thoughts are with his loved ones, friends, and colleagues at this difficult time. https://t.co/XPjTSqP7Hx

— David Blair (@DavidTBlair) November 1, 2021
The Maryland State Police send our condolences to the Montgomery County Police Department for the loss of Lieutenant Daniel John Friz. Our thoughts and prayers are with Lt. Friz's family and the entire department community. https://t.co/wRS4LB7DbL

— MD State Police (@MDSP) November 1, 2021
We extend our deepest sympathy and condolences to our friends and colleagues at @mcpnews on the tragic and untimely passing of Lt. Daniel Friz early Monday morning. Please keep him and his family in your thoughts. pic.twitter.com/GgnjfOWuV6

— Park Police MC (@ParkPolice) November 2, 2021
The thoughts of every member of ATF Baltimore are with family, loved ones, & @mcpnews colleagues of Montgomery County Police Lt. Daniel John Friz, who died in a fatal vehicle collision yesterday. His service & dedication to the citizens of Montgomery County will not be forgotten. pic.twitter.com/r8a9Ej5eBc

— ATF Baltimore (@ATFBaltimore) November 2, 2021
The BHPD sends our condolences to the family, friends, and fellow police officers from the Montgomery County Police Department on the loss of Lieutenant Daniel Friz. pic.twitter.com/PUpjJjqEmh

— Berwyn Heights Department of Police (@BHPDNews) November 2, 2021
The Rockville City Police Department would like to express our thoughts and prayers to the family, friends and @mcpnews for the tragic passing of Lt. Daniel John Friz early this morning. We are thinking of you and extend our deepest sympathies to all. pic.twitter.com/lNZuhXugyy

— Rockville City Police Department (@RockvilleCityPD) November 1, 2021