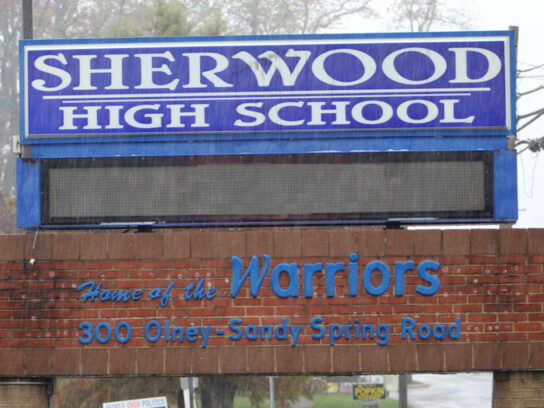 Jeffrey Sullivan, Montgomery County Public Schools director of systemwide athletics, called an incident involving racist and derogatory comments during Saturday's junior varsity girls' basketball game between Sherwood and Albert Einstein high schools "inexcusable."
Sullivan wrote a letter to the MCPS Community, informing them that there was a report of "inappropriate language being used by a member of each team. "At the end of the game, a student  from each team accused one another of making racist and derogatory comments at each other during the course of the game," Sullivan wrote.
This rivalry sparked an earlier racial incident when Sherwood  played Einstein in a soccer game in October 2021. Sherwood High's cheering section and crowd members called out derogatory names against the Asian community, according to Sherwood High School's principal at the time.
Following that incident, MCPS held meetings between Sherwood, which is in Sandy Spring, and Einstein, which is in Kensington, to discuss the harm derogatory remarks can cause.
In the Jan. 8 incident, Sullivan noted that the incident was "in direct conflict with our R.A.I.S.E. core values of Respect and Sportsmanship, Academic Excellence, Integrity and Character, Spirited and Safe Competition, and Equity and Access. Such actions are inexcusable and individuals who engage in such behaviors are not welcome in our program."
An investigation of the Jan. 8 incident has begun and will involve interviews and a review of the game video.
"We will not tolerate statements or actions that harm or discriminate against others, including by race, gender identity, or socioeconomic status," Sullivan wrote.
A petition on Change.org called on MCPS Board of Education "to open their eyes to the racism that Sherwood is letting slide. Enough is enough and we need you to help instill the change in our schools."
As of Jan. 9 at 6 p.m., 657 people had signed the petition stating "Sherwood High School athletics has proven that they do not care how their students behave towards students of color." It mentions both the October and January incidents.
According to the petition, "We are still fighting this injustice. At a basketball game, students of color were being singled out. These students were called racist slurs in front of everyone to see. When it was once again brought to the Sherwood coach's attention but the player saying the slurs denied it. She was then overheard bragging to her teammates that she did in fact say it. When the coach was confronted he claimed,'Things happen in the heat of the moment.' Saying a slur is not something you do in the heat of the moment."
Please see this statement regarding an incident during the Sherwood at Albert Einstein JV girls' basketball game on 1/8/22. Racist & derogatory comments have no place in our program. We remain committed to the R.A.I.S.E. core values of @MCPSAthletics.https://t.co/NL5samNhTR

— Jeff Sullivan (@mcpsAD) January 9, 2022